The Endless Movie Review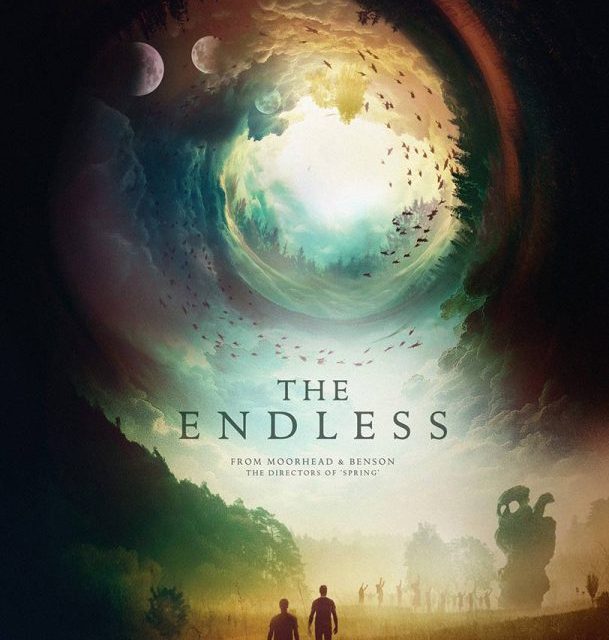 Score 80%
Score 80%
Sometimes a movie can sneak up on you and take your idea of reality and throw it in the trash can. "The Endless" can do just that. It can lift out your brain, put it in the blender, and hit 'Frappe'. But when you are finished watching, you realize that the movie that you just saw has taken you on a trip into an alternate dimension Fun House. Be careful, you still might be stuck somewhere in the Hall of Mirrors.
Two brothers have escaped ten years ago from a weird 'UFO death cult', as they called it. Aaron Smith (Aaron Moorhead) rememebers things much differently than his older brother Justin (Justin Benson). Being far removed from that time, they both feel isolated without contact with the cult members. They are living dull and drab lives, and they wish to make a final closing statement to the other cult people. So they head back for just single night to confront them. But at the same time, Aaron thinks they might be able to take them back.
Justin and Aaron stop at the roadside marker that shows where their mother was killed in a car crash and the cultists found the two boys alone. The cult took them in and cared for them, and Aaron has some fond memories. Back at Camp Arcadia, Aaron and Justin meet with many of the people with whom they used to live. The group has no actual leader, but Hal (Tate Ellington) is the one who talks the most and explains things to them. But how to explain that 10 years have gone by, yet the entire group seems to have not aged? There is Anna (Callie Hernandez) who is sweet to Aaron and might be using her charm to make him stay. There is Tim (Lew Temple) who is big and brawny and might be an enforcer who can make people stay.
Justin wants to get going quickly, because he feels something is not quite right at the camp. The members of the group never leave, and there are very odd things that he sees. Gravity does not seem to work in the same way. The full moon is shown to be two moons in the sky. There are things that Justin cannot explain, Aaron is not paying attention at first, but soon he also gets the idea that there are unnatural forces at work. Justin tries to leave, and he gets lost in the woods.
Justin finds a fellow named Carl (James Jordan) and he explains some things to Justin. But he does not believe Carl, until he sees the results of what happens. There is an unseen force or an entity that is controlling these people, at the camp and in Carl's cabin. Justin goes not he finds a couple of guys in a cabin where unusual things happen with time. In some areas, there is repeating loop where time is not advancing into the future. Justin and Aaron reconnect and both decide that it is time for them to go. But will they be able to get out of the mystery location, without a way to know what the hell is going on?
Justin Benson has come up with a story that takes you and gives you a very strange tingle of your spidy-sences. Justin Benson and Aaron Moorhead manage to not only direct the entire film, but also two play the two key roles. As brothers who had been able to escape the clutches of a strange death-cult, they return to find things were more bizarre then they thought. The story unfolds very slowly and methodically, with just enough unexplained images and dialog to make you wonder if the two guys are just insane.
For a very small independent movie, this reaches and succeeds far better than a handful of major Hollywood releases. It explores the presence of an unseen entity better than "Annihilation". It takes a stab at displaying time loops that can rival the movie "Edge of Tomorrow". It takes a clever look at what being in a cult can do to mess up the brain of young kids, better than any other major movie.
"The Endless" does a credible job of breaking out of a 'cult status' movie and being able to become a well-respected and interesting movie that will be talked about for ages.
In Phoenix, playing the FilmBar
The Endless Review
80%
The Endless Summary
Directed by: Justin Benson & Aaron Moorhead
Written by: Justin Benson
Starring: Justin Benson, Aaron Moorhead, Callie Hernandez, Tate Ellington, Lew Temple, James Jordan
Length: 111 minutes
MPAA Rating: not rated
Genre: Sci-Fi, Mystery