Disobedience Movie Review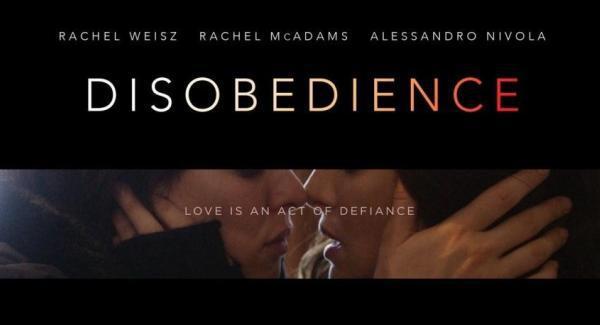 Score 58%
Score 58%
The movie "Disobedience" is a deep dive into the inner workings of an Orthodox Jewish enclave located in London. The focus is on two women, and how the community reacts to the sexual attraction between them. The pacing of the story is slow and methodical, as the ramifications of their forbidden love spreads even deeper. Since one of the stars is Rachel McAdams, the shortcut title might be "The Notebook for Orthodox Jewish Lesbians". All that is missing is the kiss in the pouring rain and the swans on the lake…
Ronit (Rachel Weisz) is the daughter of the main rabbi in a small London Jewish community. The elder rabbi is much respected, and Ronit is estranged from everyone in the Orthodox group. She has moved far away and does not communicate with anyone from back home. That is, until the rabbi dies suddenly. She is informed that he has passed away, and she decides to make a trip from New York back to her old community. That is, if anyone there will put up with her. There was some undefined incident that caused the falling out with her father and the rest of the people. But she comes back and stays with a childhood friend.
That friend is Dovid (Alessandro Nivola) who is a young man getting setup to be the new rabbi for the community. He is married to their childhood friend Esti (Rachel McAdams) who is the one that secretly contacted Ronit. Dovid is surprised to see Ronit return, because he thought that nothing would make her come back to the place that caused her so much pain. Esti is secretly pleased, because she and Ronit have a hidden past of passion and love. It was this relationship that caused Ronit to leave in the first place.
Passions get reignited and emotions get all tumbled when Esti and Ronit reconnect. The community around them start to get wind of the underground love affair that has rekindled. Dovid becomes very angry and at the same time confused. The things that Ronit assumed would be part of her father's will that he would leave to her are instead being funneled to the synagogue. So, she left with nothing, and she is coming back for nothing. Only the subversive and illicit love between her and Esti will bring her anything resembles joy. Yet the passion that connected them is tearing apart the community in which they live.
The keys of this movie are 'The Two Rachels', Rachel Squared as it were. Rachel Weisz and Rachel McAdams are very enlightening as the two leads, Ronit and Esti. They pour a lot of talent into the lost and longing looks and steely gazes of the two characters. They are the reason that a very mediocre story line can be enhanced into a higher level of viewing. Also, Alessandro Nivola does a very fine job as the poor guy who gets stuck in the middle of something that he does not understand. Every other actor is well suited to be a typical Jewish community member. Perhaps a bit too stereotypically, in some of the cases.
This will, in most cases, be a must-see movie for a very small and select slice of the audience. It does have two strong female leads. They are in a very interesting situation where they rebel against a very traditional religion. But for a clear majority of people, it might be a little languid in the pacing of the movie. It might also be a little non-specific in the final resolutions. There are many loose ends, and many times an audience likes to see most of the situations wrapped up. There is not a huge excitement factor in the plot or the pacing. The movie simply exists to give 'Rachel Squared' a platform to give a very powerful pair of performances.
In Phoenix, playing exclusively at Harkins Camelview…
Disobedience Review
58%
Disobedience Summary
Directed by: Sebastián Lelio
Screenplay by: Sebastián Lelio & Rebecca Lenkiewicz
Based on novel: "Disobedience" (by Naomi Alderman)
Starring: Rachel Weisz, Rachel McAdams, Alessandro Nivola
Length: 114 minutes
MPAA Rating: R for some strong sexuality
Genre: Drama