Wont You Be My Neighbor? Movie Review
Score 90%
Score 90%
Fred Rogers or 'Mister Rogers' as he was always called later in life, was once a child. As a child, he was known to those who bullied him as 'Fat Freddy.' This bullying made him become the man he was, a philanthropic humanitarian and caretaker of young minds. He grew up to understand, feel for and love children to the degree that he changed his life's path of becoming a minister and having his own church. He grabbed ahold of a wildly new medium at the time, television, and created an avenue in which to speak to children, one on one, and let them all know that they were special and that no matter what they were hearing from people around them, that they were loved and worthy of love. He saw television as a way to educate children and what was mostly seen as a tool used to entertain, he could use to add value to their lives, help them understand how to communicate, how to handle adversity and how to… love their neighbor.
This documentary goes deeply into why certain characters on the show were created. It fills in the blanks of who Fred Rogers was, speaking not only to cast and crew but to his family members, friends and his children, who must have felt that they had millions of siblings across the globe.
Puppets were originally given life as a way to fill in time. One puppet, in particular, Daniel the Tiger, was believed to be who Fred used therapeutically to speak words he himself could never utter. Though it was a kids show, Fred spoke of serious issues, even those paralleling the real world, knowing full well that subliminally children would pick up on and understand the theme he was conveying to them.
Through this documentary, I was immediately taken by this person I never gave much thought to and was thoroughly impressed by the lengths he went through to do the right thing. President Nixon wanted to cut funding to PBS, the Public Broadcasting Station Fred's show was spread across America through. Upon hearing this and without hesitation, Fred went to Washington and in front of Congress he told them of the great importance to our youth public television was and managed to do did what no one else could have done. He changed their mind on the spot.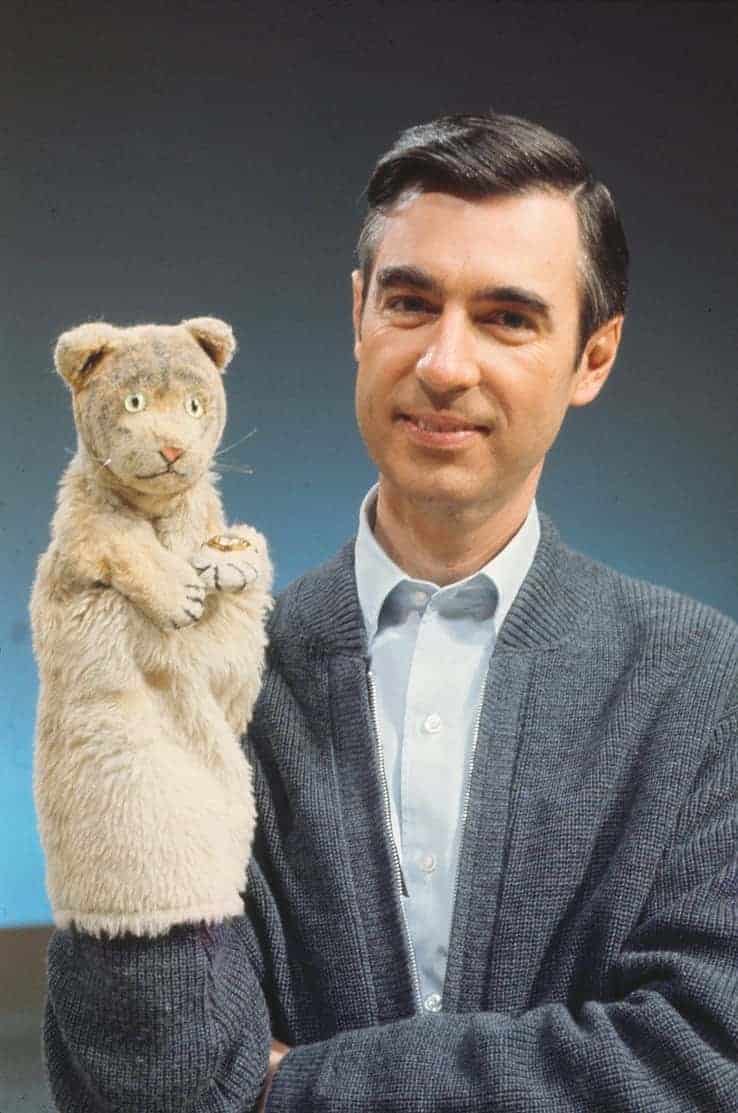 He considered the space between the TV and the receiver, where he spoke to the nation's youth, very sacred ground, filling it on occasion with special episodes when children needed him most, such as the assassination of  Robert F. Kennedy and what happened to American during 9/11. For a short time, he tried a show focusing on helping adults but it didn't take; best he works his magic with the kids who receive him better.
Director, Morgan Neville, shows some of the parodies that had been created and though he had a sense of humor about them, it was said that what bothered Fred most was when they made fun of the ideology behind the message. There was heartfelt, touching moments with the cast. They spoke highly of him and always felt his love and they, too, were open to receiving that special gift. The end of this film leaves you to wonder what he would have thought of how we live today. Would he be having a special episode for us right now? Believing that true evil came from people who try to break your spirit, he didn't fear any ridicule and was never afraid to tackle any issue where a tremendous lesson had to be learned. This is why we needed him then and why we need him now.

Social Media:
#MrRogersMovie

Official Website:     http://focusfeatures.com/wont-you-be-my-neighbor/
Facebook:                @MrRogersMovie
Twitter:                      @MrRogersMovie
Instagram:                @MrRogersMovie       
                               
Wont You Be My Neighbor? - Movie Review
90%
Summary Director: Morgan Neville Starring: Fred Rogers (as himself in archival footage), Joanne Rogers (as herself), McColm Cephas Jr. as a child, François Scarborough Clemmons (as himself), Kailyn Davis as a child, Yo-Yo Ma (as himself), Joe Negri (as himself), David Newll (as himself) Rated: PG-13 Run Time: 1h 34min