Bernard and Huey Movie Review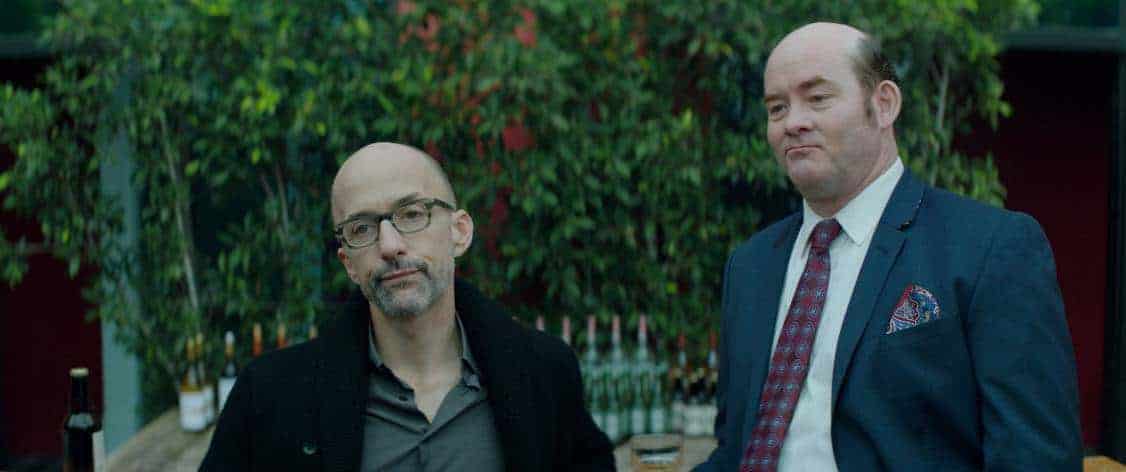 Score 88%
Score 88%
'Bernard and Huey' was a favorite at the Phoenix Film Festival this year. The originality or the story, characters and the acting were refreshing, and it became even more so when the director, Dan Mirvish, stood before us and gave us a little history of how the film came to be. 'Bernard and Huey' is based on a cartoon strip of these two men that were in Playboy magazine in the 1950's. The characters were created by Jules Feiffer who later wrote a script about the two pals who reunite many years after college to find they're nothing like they once were. Learning the history of the story made the film much more fascinating but the writing had already won me over. The fact that Jim Rash and David Koechner are Bernard and Huey leads one to ask, what could go wrong? Why ask this? Based on characters they've played before I knew the characters would be colorful, to say the least. So, the answer to the question is nothing. Nothing goes wrong. Not for the film, that is.
When they were young, Bernard (Rash) was a shy kid who couldn't speak to girls and Huey (Koechner) was a jerk who took advantage of them whenever and wherever he could; he couldn't care less who he tortured along the way. Huey enjoyed telling him tales of how he treated lovers and Bernard would learn but was shocked and disgusted as he listened. He tried to be a good influence but nothing doing… Huey and his lack of maturity wouldn't budge.
When we meet the men, Bernard is rather successful and Huey, having just lost his wife and child due to being a chump, needs a place to crash.

Though he's no longer a pushover, he's still kind-hearted and Bernard gives him a place to stay. He's also loving seeing his hero dethroned. However, letting him back into his life, he recalls all the reasons why they didn't remain friends. A very 'Odd Couple' feeling begins to emerge, and these reasons come rushing back to him when Huey starts taking advantage of him. Bernard has done well but who he once was comes flooding back and he begins to lose faith in himself, especially when it comes to women who he was doing very well with until Huey came back into his life.

Flashbacks are revealing and help you see that Bernard is reverting to his old self because he's now attempting to one-up Huey and goes too far. Zelda is that too far. Keep in mind, Bernard sees himself as better, more advanced mentally, than Huey but really, they are one and the same and that's what Bernard has tried so desperately not to reveal to anyone. He hates that Huey's arrogant, nasty attitude has taken him to have to dive into his own hubris because he has gone to such great lengths to appear above the norm.
Why you'll love this film so much is the dialogue. It seems perfectly written for Jim Rash to deliver and when he goes head to head with his attempt at getting back at Huey, it works even better. Zelda is that 'too far' he's willing to travel. Bernard starts seeing Zelda, (Whitman) a twenty-something aspiring graphic novelist who is also… Huey's daughter. Bernard tries to but cannot resist her charms. She likes being with him but is looking for help to get published. Bernard doesn't want Huey finding out about them, but Huey does find out and doesn't have the reaction to the news one might think he'd have. Knowing that his child is an extension of himself, Huey knows Zelda is only going to devour him. Bernard isn't prepared for her but at the same time maybe needs her before he can ever fully grow up.
I've spoken of how wonderful Whitman and Rash are but can't leave out Koechner's brilliance as a modern-day Neanderthal. His bold hilarity as he works impeccably opposite Rash to bring to life a script based on a comic strip is frustratingly precise. Mirvish couldn't have cast this film better.
Bernard and Huey - Movie Review
88%
Summary Directed by: Dan Mirvish Written by: Jules Feiffer Starring: Jim Rash, David Koechner, Mae Whitman, Sasha Alexander and Nancy Travis Rated: R Run Time: 1h 30 min