The Last Word Movie Review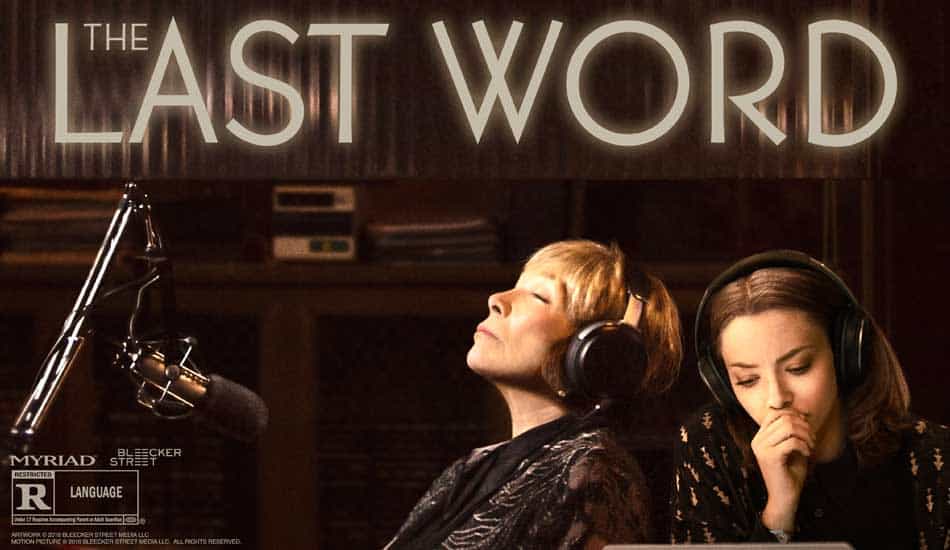 Score 76%
Score 76%
When a person dies, there is usually a line, a paragraph or an entire page in the obituary section. It depends on how notable that person was, and how connected they were. Or perhaps, if you are the control-freak type, you hound the local newspaper obit writer and you make the final decisions about what should be in "The Last Word".

The control-freak is Harriett (Shirley MacLaine) who is a former business leader in the small town. She is divorced with one adult child, whom she never sees. She has a snippy attitude towards everyone, because – obviously – they could never do as great a job as she can. She berates the gardener and harasses the cook. And one night she has too many sleeping pills with her bottle of red wine.

When she recovers, he doctor asks if it was actually just an accident.  Of course, she replies, "I was very tired and I was very thirsty!". But Harriett starts thinking that some day an obituary will be written for her. So, by God, while she still has the gumption, she will make sure it is written correctly!
The local paper has an obituary writer named Anne (Amanda Seyfried). Really, how many obituaries will they need in a week? Harriett uses her influence to have Anne 'assigned' to her full-time, so that Harriett can properly get "The Last Word" done to her liking. Anne objects to her boss, saying that Harriett puts the "bitch" in obituary…

Anne is stuck with Harriet, so she starts interviewing people from her past. Harriet turns out to be none too popular, even getting the thumbs down from her pastor. Anne wants to find out about Harriett's family, her ex-husband Edward (Phillip Baker Hall) and her daughter Elizabeth (Anne Heche). But Harriet has more immediate needs.

Anne takes Harriett to a school for at-risk kids, so she can 'connect with a disadvantaged child'. A young girl named Brenda (AnnJewel Lee Dixon) thinks Harriett is only there for court-ordered reasons. Brenda has foul attitude, and a mouth to match.  She is as feisty as Harriett, so they wind up being a good match.

Harriett still has some tricks up her designer sleeves. She takes Brenda and Anne to a local radio station, one that actually uses live DJs. She impresses the station manager with her eclectic tastes that he actually does give Harriett a morning DJ slot. Anne is finding out her first impression of Harriett was incomplete, and she does have many more talents than anyone knew.
Harriett, along with Anne and Brenda, take a trip to visit Elizabeth. But she does not want to reconnect with her mother. Harriett goes to see her ex-husband Edward, and they realize that they could never live with each other, but they do miss each other. Harriett has a few snappy words when she first meets Edward…

Edward: As I live and breathe..
Harriett: Well, from what I see, you have not been too successful at either activity!

Harriett learns that sometimes people can be good to her, if she is good to them. Anne becomes like a substitute daughter. Anne finds a new purpose in her writing, and wants to make a substantial impact with her work. Brenda learns to believe in herself and knows that she can make a difference in the future.
The story does follow a typical formula and it has more than a few loose ends. The ending seems unlikely. Harriett is a local pariah one day, and then in the course of a few months, people would flock to her funeral and have nice things to say about her. The way that Brenda gets squeezed into the plot is a bit hokey.

Shirley MacLaine is the star of the show. She has a command of the screen and can look in to be in total control in any situation. Her role is pretty interesting, and she appears to have fun playing a grumpy old lady. Amanda Seyfried has a paper-thin character and can do nothing more that react to the Harriett character. She could use a little more depth in the role, but there is not much to offer.

Anne Heche and Phillip Baker Hall have little more than a cameo in the movie. They are good in the roles, but there is nothing that adds to the movie. AnnJewel Lee Dixon is a cute little hell-raiser, and does a great job. But you just want to wash out her mouth with soap afterwards…

"The Last Word" is a cute little movie that hints how great Shirley MacLaine could have been with a much better written role. This one will give you a few chuckles while you watch, and eventually you can rent it and watch it with your mother. She probably knows a few grumpy old ladies herself…
The Last Word Movie Review
76%
Summary Harriet is a retired businesswoman who tries to control everything around her. When she decides to write her own obituary, a young journalist takes up the task of finding out the truth resulting in a life-altering friendship.
Directed by: Mark Pellington Written by: Stuart Ross Fink Starring: Shirley MacLaine, Amanda Seyfried, Anne Heche, Phillip Baker Hall, AnnJewel Lee Dixon