Table 19 Advance Movie Screening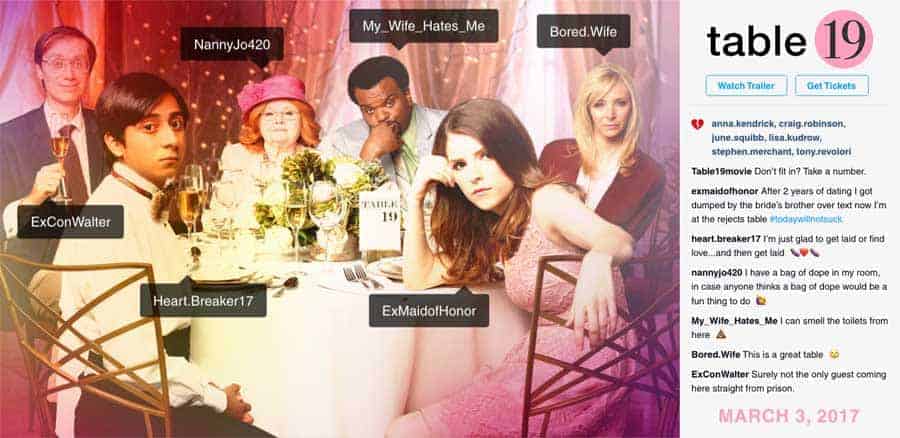 Movie Screening Summary: Ex-maid of honor Eloise (Anna Kendrick) – having been relieved of her duties after being unceremoniously dumped by the best man via text – decides to hold her head up high and attend her oldest friend's wedding anyway. She finds herself seated at the 'random' table in the back of the ballroom with a disparate group of strangers, most of whom should have known to just send regrets (but not before sending something nice off the registry). As everyone's secrets are revealed, Eloise learns a thing or two from the denizens of Table 19. Friendships – and even a little romance – can happen under the most unlikely circumstances.
Director: Jeffrey Blitz
Writers: Jay Duplass (screenplay), Mark Duplass (screenplay)
Stars: Anna Kendrick, Lisa Kudrow, Stephen Merchant
Table 19 is in theatres March 3, 2017

See more advance movie screenings from tmc
Advance Movie Screening For TABLE 19
Find your chance to receive special advance movie screening passes below.
Phoenix, Arizona
Advance Movie Screening Details
Movie Screening Date: Monday, February 27
Location: Harkins Scottsdale 101
Movie Screening Time: 7:00pm
Get Passes
Las Vegas, Nevada
Advance Movie Screening Details
Movie Screening Date: Tuesday, February 28
Location: Regal Red Rock
Movie Screening Time: 7:00pm
Get Passes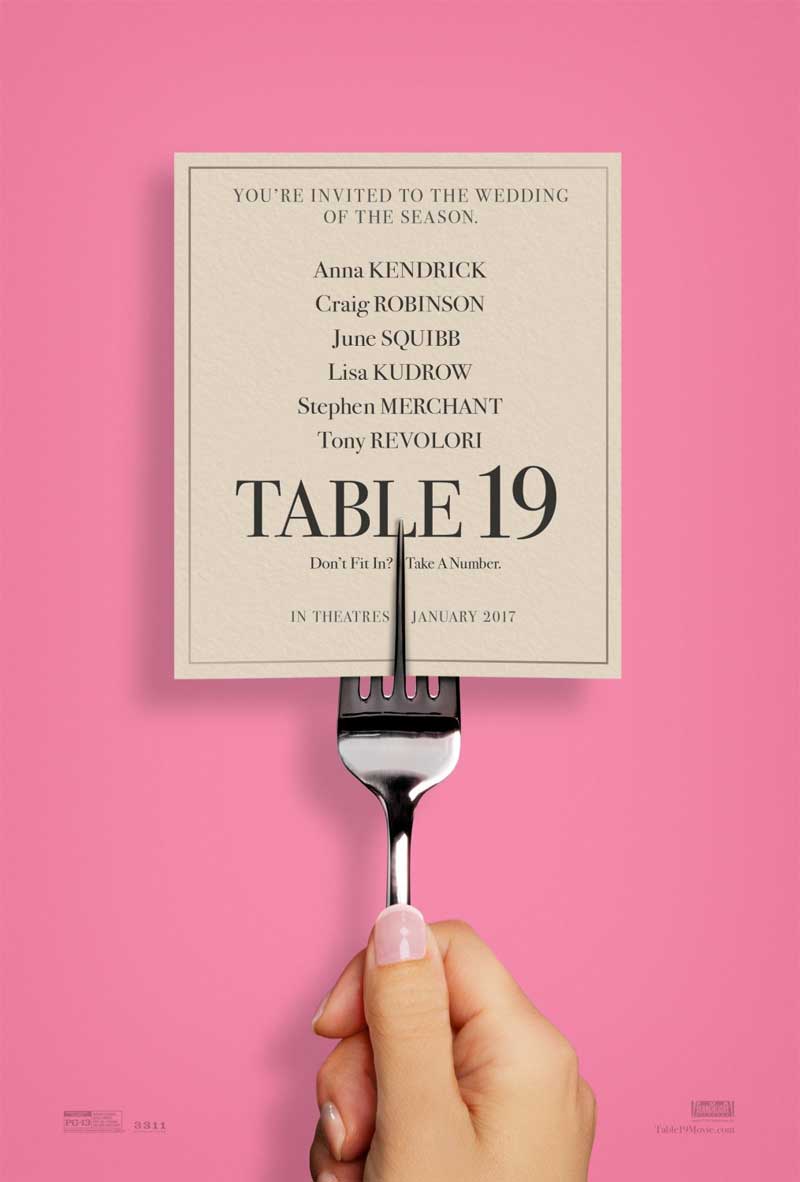 Advance Movie Screening Information
To redeem a pass, simply click the Get Passes button. You will taken to our movie screening partner site (where you can sign up for a free account). Once you've done so, you'll be able to print out your pass and bring it with you to your screening or event.
Admittance into a screening or event is not guaranteed with your pass. Events and advance screenings are filled on a " first come, first served " basis. To ensure that you stand a good chance of being admitted, we recommend that you show up 30 minutes to one hour early.
The number of admissions that are permissible for each pass are printed clearly on the ticket that you print out. You are allowed to bring as many guests as is indicated on your pass. For example, if your pass is for " Admit Two, " you can bring yourself and one guest. If you have an " Admit One " pass, you can bring only yourself.
If you have any other questions or comments, please contact us.