Snatched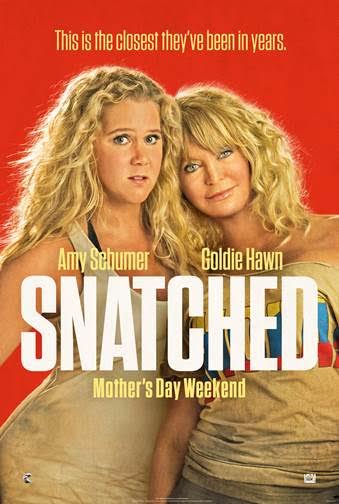 I love Amy Schumer.  I love that she's not afraid to show off her body that isn't the Hollywood preferred size zero or to be dirty.  Some adults like their R-rated films to be hard-core, even if they star women.  Men, don't fear.  There isn't too much estrogen it'll push you away.  Snatched isn't really geared toward any specific sex.  While it's true a few gags are aimed directly at the relationship between mother and daughter, which is a refreshing thing to see, that not all it has.  It's just a hysterical film.  Sophomoric also comes to mind to describe it but its genre is comedy and funny it is.  Again I will reiterate that it can be lowbrow at times but go in knowing that and just have a chuckle.   
The movie opens letting the audience know that when it comes to the mayhem that eventually happens, it's Schumer and Hawn who'll end up inflicting it on their captors rather than the other way around.  It's not necessary to give this away but films can't help but be predictable sometimes, being aware of this in advance doesn't hurt the story any.
Schumer plays Emily, a young woman torn apart by the devastating blow her boyfriend just dealt her.  She has an exotic vacation planned to Ecuador and he breaks up with her right before they're supposed to go.  Never one to listen to what her mother, Linda (Hawn), tells her to do, she had purchased nonrefundable tickets… something her mother always warned her against.  After asking all of her friends if they'd take the extra ticket off her hands, she has no choice but to crawl to mom and admit she didn't listen to her and that she needs her to go.  She pleads by asking her to help put the fun in nonrefundable. 
Linda isn't excited about it at first but admits to herself that a life that centers around her cats and dealing with Emily's agoraphobic brother, Jeffrey (Barinholtz), who still lives at home, would be nice to get away from for awhile.  Linda does go but it's difficult for her to let go.  She's set in her ways and though her daughter means well and wants her to break loose, she's not willing to change who she is for anybody.  On the beach, as Emily tries to talk her mother into relaxing and not being so afraid of everything, they end up meeting two of the more hilarious characters in the film.  They are Ruth (Sykes) and Barb (Cusack) who throw their two cents in, interrupting the conversation by disagreeing with Emily.  They tell her they should never let their guard down.  Barb was in Special-Ops and knows a lot about these matters.  Knowing that the movie is about two women who are kidnapped, it's glaringly obvious that this will come into play later.

Emily meets the gorgeous, too good to be true, James (Bateman), who she can't wait to have sex with.  A scene where she preps for that moment is shocking but not too surprising… this is an Amy Schumer film after all.  They decide to go out the next day and see the beauty of the land.  James says it's okay to bring Linda for their little adventure.  Ever the pessimist, Linda doesn't want to go but agrees to anyway.  When she turns out to be right not to trust the unknown environment, mother and daughter are tested when they're kidnapped and thrown into a dark room.  This entire situation lends to some ludicrous scenes for Schumer to do her thing.  Luckily, they make their escape and find that they must get to the U.S. Embassy if they hope to find any further help.  The men they meet during this trek contribute to the story and the humor without being frivolous or just sex objects.  Christopher Meloni, who plays Roger a guy who slightly oversells his jungle talents, attempts to give them a hand and finds he probably should have sat this adventure out.  Bashir Salahuddin, a State Department official contacted and constantly badgered by a desperate Jeffrey to help his mother and sister, is a wonderful supporting role as he attempts to be left alone.  Jeffrey's character gets old fast but it's necessary for the overall story and works for the film.  Some of the comedy can be immature and crude but it's a comedy… it's okay to laugh at the absurd and be amused by the ridiculous. 
What works best is that the relationship between Emily and Linda is believable.  It wouldn't be too hard to believe they'd be real mother and daughter.  That said, it's apparent to see that Linda has always wanted Emily to do more with her life and though you already know that the bond between them will be strengthened through the film, it's fun to watch because the trip that Katie Dippold (Parks and Recreation, MADtv ) wrote for these actors to bring to life really works with the casting director Jonathan Levine (Warm Bodies, The Night Before) did for the film.  At the end, we see them one year later.  Has Emily grown up or was that just wishful thinking?  See it this Mother's Day and find out for yourself.  Bring your mom… even if she doesn't want to go!
SNATCHED Official Channels
SITE: Snatched.Movie
FACEBOOK: https://www.facebook.com/SnatchedMovie
TWITTER: https://twitter.com/Snatched_Movie
INSTAGRAM: https://www.instagram.com/SnatchedMovie/
HASHTAG: #SnatchedMovie
Snatched Movie Review
74%
Summary After her boyfriend dumps her on the eve of their exotic vacation, impetuous dreamer Emily Middleton (Amy Schumer) persuades her ultra-cautious mother, Linda (Goldie Hawn) to travel with her to paradise. Polar opposites, Emily and Linda realize that working through their differences as mother and daughter - in unpredictable, hilarious fashion - is the only way to escape the wildly outrageous jungle adventure they have fallen into. Directed by: Jonathan Levine Starring: Amy Schumer, Goldie Hawn, Joan Cusack, Ike Barinholtz, Wanda Sykes, Christopher Meloni and Tom Bateman