Coco Movie Review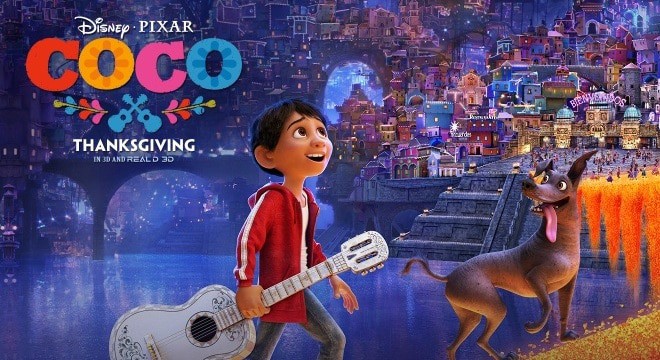 Score 93%
Score 93%
"Coco" is a wonderful new movie from some really talented people at Pixar. These are the folk who make the refreshing and creative movies there, not the ones who toil in the Pixar 'sequel' division. This is a bright and colorful celebration of Mexican traditions and culture, especially the 'Día de los Muertos' (Day of the Dead). That is when family members who have passed away are remembered, a time when music and rejoicing fills the air.
Young Miguel Rivera (Anthony Gonzalez) is from a poor village, but his family has banished music for generations. Ever since his great-grandmother, named Coco (Ana Ofelia Murguia) had her father disappear into the world of a musician. He left to make a name for himself, but he never returned. Mamá Imelda (Alanna Ubach), who was Coco's mother forbade any more music, and instead made shoemaking the family business. Now Coco is very frail and invalid, but she still dreams of her 'Papa'.
Miguel has hidden love of music, and of a long-dead musician named Ernesto de la Cruz (Benjamin Bratt). He was a famous artist who had starred in movies and had many hit songs. But he died young and never knew if he had any family. Miguel thinks that he could be related to de la Cruz and that maybe he could have some of his songwriting talent. Miguel 'borrows' the famous de la Cruz guitar from the superstar's shrine.
Miguel finds himself in the Land of the Dead, with all of his dead relatives around him. He must get a blessing from a family member to ever get back to the normal world. And he better hurry, because at sunrise it will be the end of 'Día de los Muertos' and Miguel could find himself stuck on the wrong side forever. It is lucky that he also has hus adopted street dog named Dante to guide him in there.
He meets Hector, another deceased musician who claims to know Ernesto de la Cruz, If Hector can bring Miguel to de la Cruz, and perhaps he can get his famous relative to give a blessing and get Miguel back home. But things in the spirit world, as well as in the real world, are not always as they seem. When secrets are revealed and mistaken identities are finally known, then everyone involved can all be at peace.
Every actor doing a voice role has been cast with perfect care. Every major part is played by a Mexican or Hispanic artist. This really adds to the authentic nature of the movie and also shows the respect given to that culture.  The design of the movie gets right to the heart of Mexican love of color and vibrant music. Each image is a beautiful nod to the style and classy nature of Hispanic art.
The movie is also available in 3-D, and this does two things. First it does add some depth to the look and feel of the design features, but it can also add a small layer of darkness to a film that should be seen on a large screen and with the brightest image. So it cuts both ways for the 3-D aspect, and is not a required thing to enjoy the movie.
Yes, it must be said that couple of years ago, the movie came out called "The Book of Life". This movie also did a terrific job with the similar theme of 'Día de los Muertos'. But I would say that "The Book of Life" hit a home run, but it was an inside-the-park type. "Coco", on the other hand, hits a full Grand Slam…
Coco Review
93%
Coco Summary
Directed by: Lee Unkrich
Screenplay by: Adrian Molina, Matthew Aldrich
Story by: Lee Unkrich, Adrian Molina, Jason Katz, Matthew Aldrich
Starring: Anthony Gonzalez, Gael García Bernal, Benjamin Bratt, Ana Ofelia Murguia, Alanna Ubach
Length: 109 Minutes
MPAA Rating: PG for thematic elements
Genre: Animated Fantasy, Comedy