Breaking In Movie Review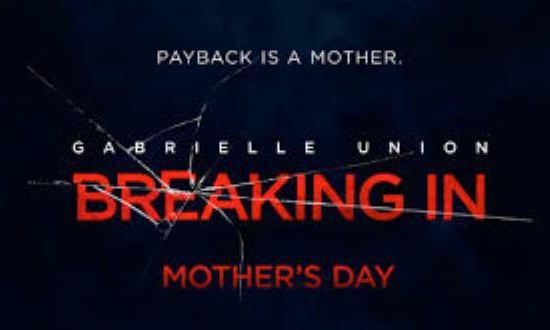 Score 73%
Score 73%
"Breaking In" is a taut little thriller that echoes back to a similar situation in the movie "Panic Room". In this case, there is not just a single room that is fortified and protected, it is the entire house. Maybe call it "Panic House"? Like in "Panic Room", there are thugs after hidden money, and a mother is all alone while defending her kids against the murder and mayhem. She has the willpower to overcome some evil creeps who want to make off with the money and 'eliminate' and problems. The power of motherly love can battle against criminal sleaze, and she might be able even the odds.
Shaun Russell (Gabrielle Union) has found out that her estranged father was killed in a hit-and-run accident. The old man was perhaps into some bad things, since he was on the radar of the DEA. Shaun must go to his estate to clear it out and get it ready for sale. He brings her two kids, teenage daughter Jasmine (Ajiona Alexus) and younger brother Glover (Seth Carr). She finds that the old man had taken the family home and had given it a full protective make over. There are multiple security doors and lights and sensors, plus shields that come down on the unbreakable glass windows. The place is a fortress, so nothing can get in, right?

Not so fast there, bucko. A group of murderous thieves is about to get into the house to find some hidden cash that the old man stored in a safe. Shaun's dad was up to no good, but it did pay well. But now he is dead, and the gang of misfits and ex-cons is ready to ransack the house. But then they find that there are two kids inside, while mom is out on the phone ordering a pizza. She gets attacked by a thug but runs, and soon she gets the upper hand. She finds that the main bad guy is Eddie (Billy Burke), who found out that the money was hidden in the house from another ex-con Sam (Levi Meaden). Eddie also has with him Peter (Mark Furze), but he has been tied up by Shaun. The wild-card psycho on his team is Duncan (Richard Cabral), who could kill a real estate agent just to make sure that she does not call the police. Which he does…
Shaun is alone there with the gang holding her children hostage. She needs to find a way to get them safe and to get the bad guys removed. Eddie wants to get the money, but with Shaun and her kids there, it poses a problem. They have weapons, but she has her wits. She also has a fierce protective streak that not even polycarbon-resin based shields can resist. She uses her brains and the tools that she has at hand to play a game of cat and mouse to slowly eliminate the bad guys one by one. She only wants the safety of her family, and if there are people who get in her way – they had best beware.  Her husband could not make the trip with her, so she is left to her own resources. And she becomes very resourceful…


This movie is a nice take on the ideas from "Panic Room", with perhaps a little touch of "Die Hard" thrown in. When Shaun is first attacked and runs away, she had left her shoes behind and is running barefoot. Gabrielle Union does a very powerful job as mother put into a bad situation. She has a screen presence that shows Shaun is resourceful and smart, but she is still scared for the safety of her kids. Billy Burke does a nice job as thoughtful, yet merciless bad guy. The rest of the cast is quite good. For the brief times that they have on screen, they get across a decent idea of that character and what they are capable of doing.
"Breaking In" does take a bit of thunder from some prior movies, but it does present it in a clear and straight-forward way. The movie moves along very quickly, and you can get a pretty good idea of the layout of the entire estate and who is located where. That helps to ratchet up the tension in many scenes. It comes across as an interesting look at how one woman can become a very real nightmare for a gang of thieves. When Shaun gets her "John McClane" going, she is an unstoppable force to be reckoned with.
As Shaun might say "Welcome to the wooded estate home protected by massive security measures, pal!"
Breaking In Review
73%
Breaking In Summary
Directed by: James McTeigue
Screenplay by: Ryan Engle
Story by: Jaime Primak Sullivan
Starring: : Gabrielle Union, Billy Burke, Ajiona Alexus, Seth Carr, Richard Cabral, Levi Meaden
Length: 88 minutes
MPAA Rating: PG-13 for violence, menace, bloody images, sexual references, and brief strong language
Genre: Thriller