Drive-In Movie Screenings Summary
Amazon prime video and Outlier Society presents, A Night at the Drive-In curated by Michael B. Jordan. These double-feature Drive-In movie screenings are free for everyone. Here are the films and dates:
July 1st – Movies To Make You Fall In love: Love & Basketball & Crazy Rich Asians
July 15th – Movies To Make You Proud: Black Panther & Creed
July 29th – Movies To Inspire Your Inner Child: Spider-Man: Into The Spider-Verse & Hook
August 12th – Movies To Make You Open Your Eyes: Do The Right Thing & Get Out
August 26th – Movies To Make You Laugh: Coming To America & Girls Trip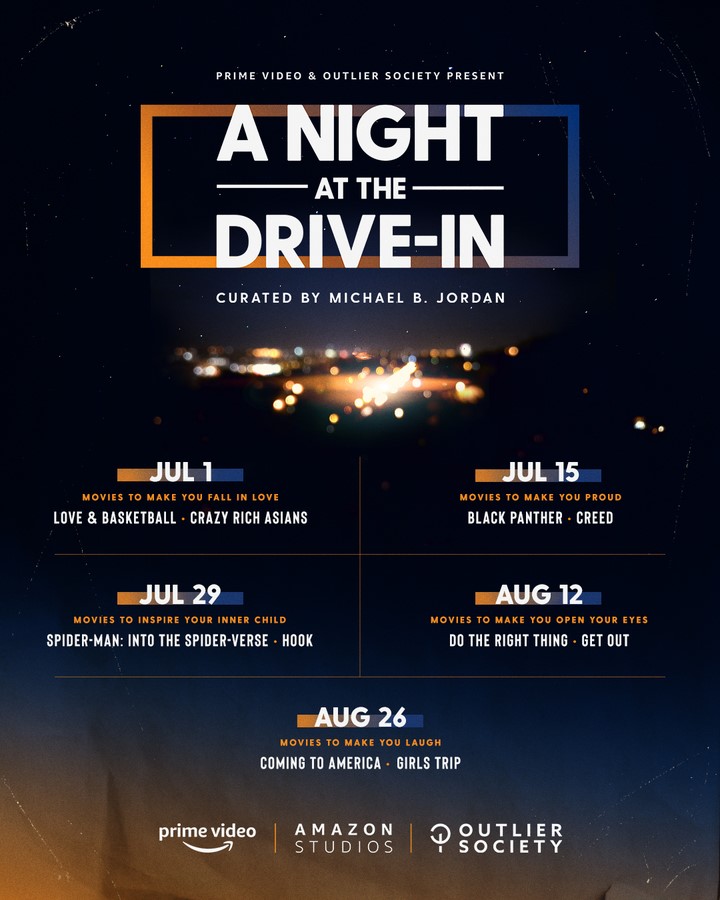 Screenings in Select Cities
Drive-In Movie Screenings Details
Movies to make you fall in love: July 1
Love & Basketball (Warner Bros. / New Line)
Crazy Rich Asians (Warner Bros.)

Movies that make you proud: July 15
Black Panther (Disney)
Creed (Warner Bros.)
Movies to inspire your inner child: July 29
Hook (Sony Pictures)
Spider-Man: Into the Spider-Verse (Sony Pictures)
Movies to make you open your eyes: August 12
Do The Right Thing (Universal)
Get Out (Universal)
Movies to make you laugh: August 26
Coming to America (Paramount Pictures)
Girls Trip (Universal)
Advance Movie Screening Information
To redeem a pass, simply click the Get Passes button. You will taken to our movie screening partner site (where you can sign up for a free account). Once you've done so, you'll be able to print out your pass and bring it with you to your screening or event. Admittance into a screening or event is not guaranteed with your pass. Events and advance screenings are filled on a " first come, first served " basis. To ensure that you stand a good chance of being admitted, we recommend that you show up 30 minutes to one hour early. The number of admissions that are permissible for each pass are printed clearly on the ticket that you print out. You are allowed to bring as many guests as is indicated on your pass. For example, if your pass is for " Admit Two, " you can bring yourself and one guest. If you have an " Admit One " pass, you can bring only yourself.
If you have any other questions or comments, please contact us.