Wonder Woman Movie Review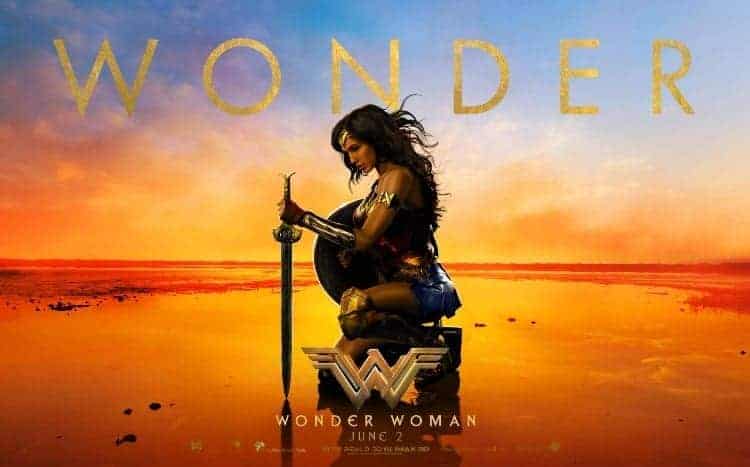 Score 88%
Score 88%
The latest entry in the DC Comics Extended Universe is "Wonder Woman". DC has been playing catch up to Marvel in attempting to create a unified movie universe of all their superheroes. Not every example so far has been great, but that is about to change. Being the first major movie to feature a female superhero, "Wonder Woman" has a lot to prove. It proves that a woman can be just as super a hero as any man. Maybe even more, because when she dances, it's in reverse and in high heels!
On an island hidden from the rest of the world live the Amazon women. They are a group of warriors who train and live apart from the world. They live with a command from Zeus himself to always protect and save humanity. There is another god, Aries, the god of War who would bring death and destruction on the Earth. The only little girl on the island is Diana, but she is no Disney princess. As she grows up, she trains and can fight with powers far above this world. The peaceful island world finally comes into the real world, when a World War I plane falls into the ocean. Diana (Gal Gadot) saves the stranded pilot named Steve Trevor (Chris Pine). He is the first man ever to be on the island.
The Amazons find out about World War I when Germans come to battle on the shoreline to capture Steve Trevor. The Queen and Diana learn of a 'Great War' and they know that Aries has returned to trouble mankind. Diana and Steve leave to reach London, so he can deliver secret papers stolen from the Germans. The Allied forces have nearly reached a peace pact with the Germans. But there is an evil German General Ludendorff (Danny Huston) who is willing to work with a disfigured Doctor Poison (Elena Anaya). Together they want to disrupt the peace process by killing off everyone in London.
Diana and Steve learn of these plans and they assemble a team to go to the front and find Ludendorff. They are helped by Sir Patrick Morgan (David Thewlis), who is leading the London peace accords. They get some people together including Sameer (Saïd Taghmaoui), a smooth-talking thief, Charlie (Ewen Bremner) an expert marksman, and the Chief (Eugene Brave Rock). Diana (known as Diana Prince) will lead the fight against the German plan to scuttle the Armistice. They all go to France to the front, and find themselves in the trenches along with the other soldiers. Diana becomes Wonder Woman with her wrist gauntlets, boots, shield and sword. She enters the no-man's land between the trenches and leads a fight to defeat the German forces.
Diana is sure that the evil General is Aries in disguise, ready to create the War that will lead to the destruction of all mankind. Steve is not too sure, but he and the team will together try and prevent the poison gas from being dropped on London. There is great mayhem and battles going on at the very end. It appears that Wonder Woman might have found a fight that she cannot win. However, there is sacrifice and much effort from all parties involved to end the conflict and bring peace. But how does it end? Who will live on to fight another day, and who will fall on the field of battle? You will need to find out for yourself!
Director Patty Jenkins has put together a fantastic group to create an enjoyable movie. Unlike many of the DCEU movies so far, this is not overly dark and plodding. It does deal with terrible subject of war, but it brings a hopeful enthusiasm to the screen with Wonder Woman's faith in humanity. The need for a super hero to save people can be done with a female fighter and leader. It is not limited to alien super-strong guys from another planet, or to a guy with cool toys and neat bat outfit. Diversity is a way to give everyone a chance for greatness.
Gal Gadot has taken this role and created a super cool hero that you can admire. She has hints of her greater powers, but she does not feel that she is more special than the other people on her team. Diana has true empathy for the victims of war, and she feels deep outrage when helpless people are put into danger. She seeks truth and a balance of force, but she knows that if she gets pushed to the limit, she will fight back and can win. She becomes Wonder Woman by being true to herself and by following the teachings of her Amazon tribe.
Chris Pine falls into his character with great ease. He finds a way to make Steve Trevor a real person who has a deep love for his country and a knack for finding trouble. His character works well with the 'Diana Prince' character in London, to teacher her about social norms, and about ice cream. Everyone else is very well cast and they do an excellent job. Even when Danny Huston and David Thewlis get close to chewing the scenery.
'Wonder Woman" will make you forget about the TV version, and Gal Gadot will own that role forever. She takes it and makes it a new "Wonder" of  the world. No doubt about it. This new "Wonder Woman" is quite a Gal!
Wonder Woman Movie Review
88%
Wonder Woman Summary Directed by: Patty Jenkins Screenplay by: Allan Heinberg
Based on: Wonder Woman (DC character created by William Moulton Marston)
Starring: Gal Gadot, Chris Pine, Danny Huston, David Thewlis, Elena Anaya, Saïd Taghmaoui, Ewen Bremner, Eugene Brave Rock