"The Edge of 17" is not exactly what it's sold to you as.  By the looks of it, from the title, poster and the trailer, you'd think this was a film for young girls and young girls only.  It's far from that.  Yes.  It is a tale of teen angst but is so much more in that we see not only Nadine's (Steinfeld) low opinion of herself from the get go and her fighting or giving up, but we see a story built around that, with characters who are more than willing to indulge her in her self-loathing and the consequences of that decision.  Most affected by her parent's decision to look the other way as Nadine wallowed in self pity is her slightly older brother, Darian (Jenner).  At the time of their father's death, he not only became the man of the house, he had to also become his mother's friend which turned into a job for him.  There are fights between brother and sister which are quite amusing but not what is at the core of issues the family faces.
Being a very difficult person to be around, Nadine has only one true friend and that's Krista (Richardson).  Since they were little they did everything together.  Nadine loved her like family; trusted her more than anyone.  When her father died, it was with Krista's help that Nadine survived.  Krista, like Nadine is a young woman now with a likable personality, pretty face and hormones that rage… something that doesn't go unnoticed by one particular individual.  Nadine gets incensed and feels betrayed when Krista begins to date Darian.  She is no longer her friend and cuts them both out of her life.  Being a spoiled brat and getting her way when she throws a fit has worked so far… why not now?  To Krista she says, 'It's him or me.  Pick.'  Nadine the Terrible is surprised at the response.
"It's a really fun movie…I highly recommend this film".
She does learn some sense.  She bothers her teacher, Mr. Brunner (Harrelson) every chance she gets.  He's both a father figure and friend but doesn't want to be either.  In a very Woody Harrelson way he damn near makes this film his own as he listens and responds to her tales of woe.  It's a really fun movie and it feels as if it's almost an honor to watch this character grow.
I highly recommend this film.  The writing is inventive, it gives a chance to female actors to play the characters given to males in a setting such as this and they handle their roles like the professionals they are; job well done, ladies!  One other reason to see this that stands out… it's produced by James L. Brooks, writer of "Terms of Endearment," "As Good As It Gets" and "The Simpsons".  It's hard to see through a keener eye than his when it comes to a hybrid of heart and hilarity.  Be ready for the rollercoaster.  This is heavy on the emotion sprinkled with laughs but then… so is life.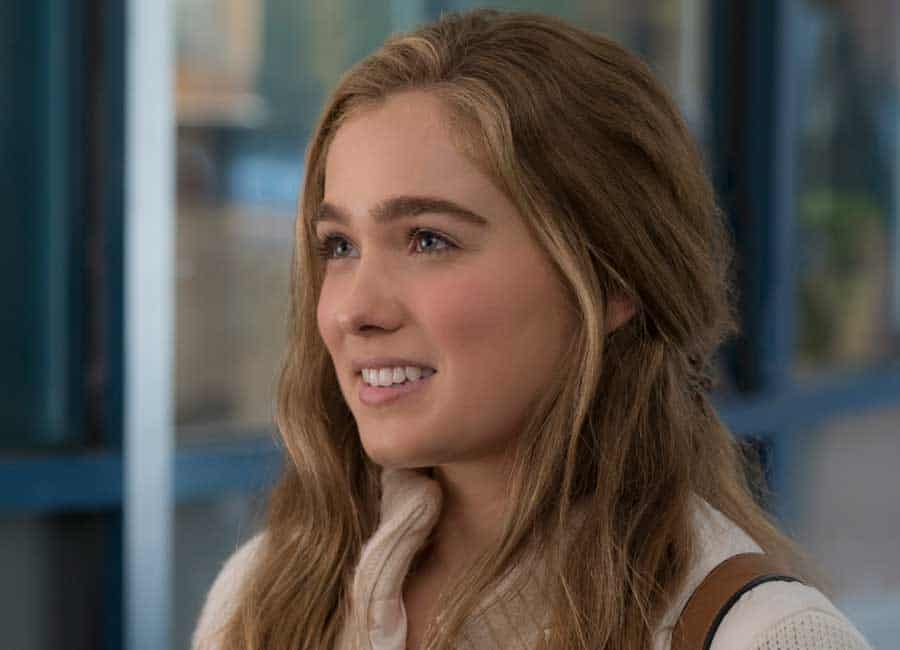 Haley Lu Richardson
Plays Nadine's best friend, Krista
Haley Lu was raised in Phoenix, AZ by right-brained creative parents, Valerie (graphic designer) and Forrest Richardson (golf course architect). She attended Villa Montessori school where she was encouraged to think outside the box and find self-motivation. She then went on to graduate from Arcadia High School in the top 10% of her class.
Haley Lu Richardson, who played Nadine's best friend, Krista, and I had a chance to chat.  She was very bubbly and sweet and talked with her hands, often pounding the table to stress a point.  Here is some of that conversation:
Q.  How much input did you and you have?
A.  We had two weeks of rehearsal time where I literally just spent time with Hailey and we did our scenes and Kelly was super open to improvising in those rehearsals and what happens before the scenes and after not being stuck to the page to really figure out what's going on in the scene and how people say that.  I didn't do much improving on the day on set but all the work we did in the rehearsal period kind of changed… you could see the scenes change a little bit to how we would naturally do it.
Q.  Were you at all intimidate working with this group of people.
A.  My character was cast later.  Most of the characters were cast already, by the time they had auditioned me which was cool for me because sometimes when you audition for a movie you have no idea who you're going to be acting opposite but I got to see who was cast and what producers were working on it and I got to see… so yeah, I was like, yeah… I was very intimidated but also equally or more so excited to just get the opportunity to learn from them.
Q.  How did you work on establishing this great friendship when you barely had a chance to do it on screen?
A.  I think the rehearsal period and Hailey and I got along really well in person.  She's so cool.  I think the writing was great… just going with it and being there in the moment.  We both know what it's like going through all that stuff in high school and how important that is and we just wanted to commit and bring it… the justice a friendship like that deserves.
Q.  Do you think a friendship is more important than a potential boyfriend or is all fair in love and war?
A.  We didn't want to make Krista the stereotypical villain that ruins the protagonist's life, you know?  We didn't' want to make her that.  She had reasons for what she did and also she's not a bad person and she's not even doing anything that bad.  She's been such a selfless friend for so long and she realizes she could possibly have this really great connection with this guy and it's like, you kinda have to do something for yourself at some point… I don't even view it and maybe this is just biased because I had to get in this headspace to play Krista but I don't view it where it had to be a choice between a relationship or a friendship.  I feel like, in the end, it actually could be a great thing if you're looking at the big picture because if it does end up working out, we could just all be one big happy family.  (laughs)  If it's not something full on crossing a line and disrespectful of a friend, I don't think there really has to be a choice.  I think you can make it work.
Q.  When Krista and Nadine have a falling out in the second act, what was Krista thinking?  We saw her story but not yours.
A.  That was interesting.  It sets up a bunch of different challenges when you're playing a supporting character because you don't have the pressure of carrying the movie but also you have this different pressure of making your character well rounded even though the audience doesn't see all of that person's life… and also I'm kind of bummed, when you do a movie, you film probably about five hours worth of movie and have to cut a bunch of things out and there were a couple scenes with me and Blake who plays Darian that actually show us, cuz he's not a bad guy either in the movie… you see everything he has to brush aside to take care of the responsibilities he has.  There was a scene where we were in his room and giggling and we hear Nadine coming in downstairs and we both stop and look at each other and there's this moment that sums up where they were… that they both wished it wasn't happening but had to follow their hearts and do some things for themselves.  She initially reached out to Nadine and Nadine didn't answer but she just knew she needed to give her some space before they could ever come together.
Q.  It's not a teen comedy but this is one of those movies that can define a generation like "Breakfast Club"… what are some of your favorite teen films?
A.  People are asking me a lot and I keep saying "She's the Man" with Amanda Bynes.  (She laughs)  I know it's a lame answer but I really love that movie.  I cracked up during that movie more than I have ever.  Whenever I have a bloody nose I use a tampon and sop it all up.  (Laughs)  That's disgusting.  (Laughs)  Honestly, I love that movie.  Obviously, I love Breakfast Club and Ferris Bueller's Day Off but I feel there's stupid ones I like even more.  Mean Girls I really like.  So there's my lame answer.
Q.  You're a dancer… are we going to see some of that talent soon?
A.  I feel like you're seeing dance so much on reality shows, the dance mom things, the step it up movies, there's ballet movies but I feel like the story of like a training contemporary dancer hasn't been told yet and I'd love to make that happen somehow.
Q:  What about you making it?
A.  I know!  I'd have to make it before I'm thirty-five before I can't dance anymore.  That's my goal.  I'm still dancing all the time.  I have a couple of injuries.  I'm twenty-one but my body is like a seventy year old because of all my dance injuries.  (laughs)  I have feet problems, hip problems and knee surgeries.  But that will happen!
She stands up and knocks on wood.  I for one believe this dance film will happen.