Loving Vincent is absolutely breathtaking.  A marvel.  It's a journey back in time much like what we experience when we stare at any piece of art.  Filmmakers, Dorota Kobiela and Hugh Welchman and a team of 125 painting animators immerse you in the world of one of the most loved artists of all, the Father of Modern Art, Vincent Van Gogh.  What has been accomplished here will unquestionably affect you, bowl you over, however you want to say it but this here, this film, is a bona fide treasure.
Allow me to give you a few facts about what it took to bring this amazing production to you.  It took seven, SEVEN, years to make and is the first of its kind.  Each and every one of the film's 65,000 frames is an oil painting itself, employing the same bold technique as Van Gogh used.  The painters spent up to TEN DAYS painting just ONE SECOND of the film!  Loving Vincent is the first 'fully oil painted feature film.'  After watching, there's no doubt there will be more to follow. 


The movie seems like an impossibility in the way it not only shows you the filmmakers talents but tells you all about the subjects.  Luckily for us, Dorota Kobiela didn't keep it a short film as originally planned.  Oh, the loss that would have been.  What Van Gogh accomplished in only nine years is remarkable and you learn so much about his work through Loving Vincent that you'll want to run and find out more.  He created over 860 oil paintings and 120 of them were used, fused into the film with loving, caring, compassionate artists out to tell the world this phenomenal story with their awe-inspiring work. 
When the artists best for the job were found for the film, they were put through a 180-hour training program before they could start painting but before that, the feature, which is a difficult task all its own, had to be shot!!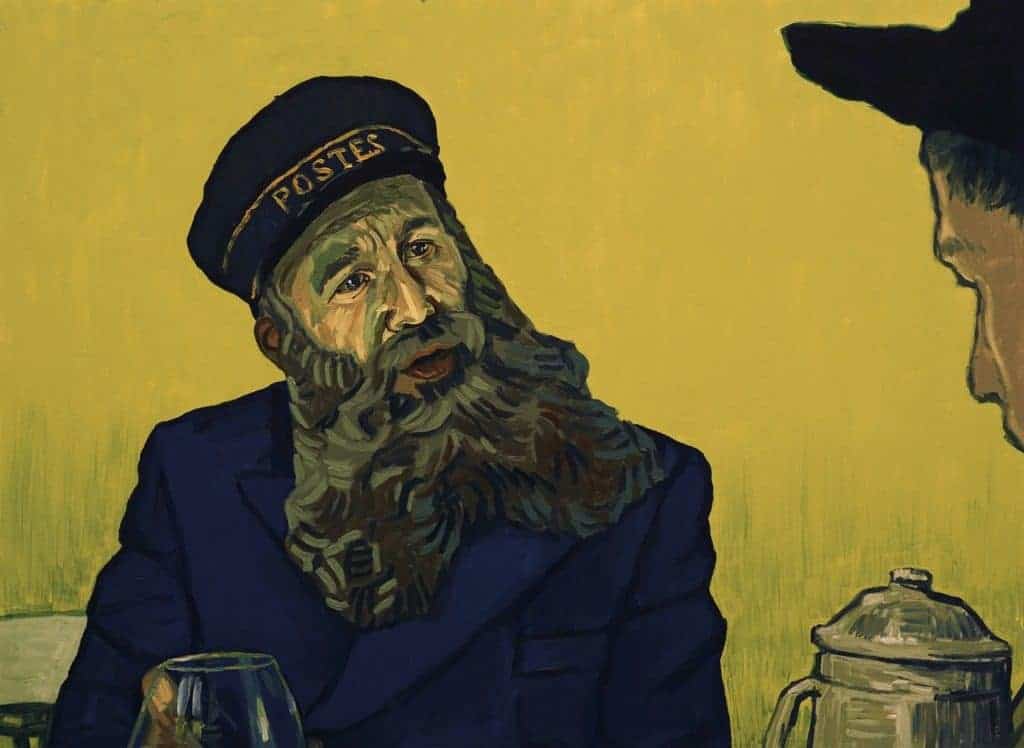 It's almost too much to comprehend but sets were built to mirror the images of Van Gogh's paintings, Night Café, Portrait of Doctor Paul Gachet and Portrait of Adeline Ravoux to name a few of the 120 used.  With that detail and the use of green screen technology, you'll thoroughly applaud the efforts to remove you from this world and drop you into his. 
His being, Vincent's (Gulaczyk) but also Armand Roulin's (Booth) world… the man trying to get a letter from Vincent to his brother, Theo (Cezary Lukaszewicz).  Arman is given the letter by his father, a postman by the name of Joseph Roulin (O'Dowd), both of them subjects of Vincent's work.  The odyssey he finds himself on when he learns of Theo's passing is not what he was expecting.  He wants only to try and find the rightful owner of the letter and instead finds himself entangled in a mystery.
After meeting several people who knew Vincent, Louise Chevalier (McCrory) who was not a fan of Vincent or his work, Adeline Ravoux (Tomlinson) the innkeeper's daughter who is a wealth of information and Dr. Gachet (Flynn), himself a failed artist, Armand sees reason all around him to doubt whether Vincent took his own life or whether someone did it for him.  The film actually takes place in 1891, a year after his death so, some of the story is told in flashbacks which are the memories of the people he speaks with and what they feel compelled to recant. Vincent's murder has now been suggested and if you weren't aware of that, watching how the idea incubates here and how it unfolds is the perfect way to judge, chew on and then spread that very notion.
 


I'll conclude with exclaiming that this is a must watch, a must own and a must see on occasion just to gaze upon the glory of it.  Subtle gestures, glances and movement are captured on canvas and exquisitely matched onto each frame so that you'll be fully absorbed in the tale.  You're so intoxicated by the movie that after a while you can't imagine these characters having ever been only on film.  I have a deep affection for Vincent Van Gogh's art.  I've read some of the letters that quotes in the film were pulled from and I utterly loved how they incorporated Vincent, his words, his affections and his illness and tragedy into this living, breathing display of craftsmanship and respect for the man.
Watch a Time-Lapse clip HERE
**Loving Vincent opens in Phoenix at Harkin's Camelview Fashion Square and Tucson at Loft Cinema on Friday
Website: LovingVincent.com
Facebook: Facebook.com/lovingvincentmovie
Twitter: Twitter.com/LovingVincent
Instagram: Instagram.com/lovingvincentmovie
Official Hashtag: #LovingVincent