L.A. filmmaker, Adam Collis, director of the film Car Dogs, is also a Professor who teaches film courses at Arizona State University.  He's an outstanding individual who takes other people's welfare to heart when making certain professional decisions.  Wanting to see the film Car Dogs made, being involved by directing and helping to produce shows proof of that.  There isn't any, 'all talk, no action' with this guy.
I'm happy to say that he was triumphant in accomplishing his goals with Car Dogs and that, luckily, he learned a big lesson along the road to success… share your knowledge and support those with whom you can if you have some influence to do so.  Meeting and chatting with the director of the film, which features actor and writer George Lopez, Patrick J. Adams (Suits), Octavia Spencer (Hidden Figures), Nia Vardalos (My Big Fat Greek Wedding), and Christ Mulkey (Whiplash), was very enlightening.  I had an enormous amount of fun picking his brain not only about his film and how it came to be but about the local talent here in Phoenix that he used.  Collis was more than happy to give people who have only worked on smaller films, or who have never at all but always wanted to work on films (both in front of the camera and behind), the opportunity to work on a true Hollywood production with a substantial budget.  He's able to do this through his internship program at ASU called Film Spark which connects film students with professionals in the movie industry. 
Film Spark and his involvement in it is something he's quite passionate about.  With his attitude about filmmaking and love of the craft, he's being instrumental in growing the Arizona film community as a whole, connecting individuals with one another which gives us all a reason to be very proud of him.  He holds his head high acknowledging the accomplishments of Film Spark, knowing full well what he's offering his students.  Through his connections and ability to get a film made, not only do they get to learn from him, but they get the hands-on experience that not many would have a chance to if it weren't for the program he so happily embraces.  He cheerfully tells me that he loves, 'giving them the opportunity to learn filmmaking on a real film set and to work with an Oscar-winning cast and crew.' Adam was thrilled with how the film turned out.  The cinematography by David Stump is beautiful and captures all the allure of the city of Phoenix.  He concentrated mainly on Papago Park where he said he knew, 'It was meant to be shot.'   A shot from above gives his audience a full view of the area and if you live near there or have driven by, you'll agree that it was a good choice.  It's a gorgeous shot.  He's excited for everyone to see the film, especially if they were involved with the production. 
A close friend and past student of his, Mark Edward King, wrote Car Dogs.  'He had originally written it as a short film and I thought it was excellent and encouraged him to turn it into a feature.'  King had been a car salesman himself and had an interesting take on the business and all that goes on in the life of a salesman or a car dog as they're referred.  He concentrated his story on these particular car dogs having to meet a quota by end of day.  It was almost kismet that he ended up making the film.  He teaches at ASU and King is from Scottsdale, Arizona.  King had been shopping his script in L.A. and it was doing well but it wasn't getting picked up.  Collis liked it and thought this would be perfect for the internship program.  Collis tells me, 'It's set in Scottsdale, written by a Scottsdale native, shot here, made with dozens of student interns.  The film is going to be shown in Phoenix's own Harkins Theaters.  What we've done here is really special.'  Scott Derrickson, who Collis had gone to film school with and who later went on to direct Doctor Strange, had also been a car salesman in a past life so it seemed there were plenty of good sources at Collis' fingertips if he needed.  After seeing it done in the film, I asked him if salesmen really listen in on buyers discussing, in private, whether or not to buy, as is suggested in the film and he replied, 'You'll have to ask Mark.'  He stands firm that car salesmen will do a great deal to sell a car saying, 'Everyone would serve themselves well by watching this movie before going and buying a new car.'  So I took that response as a yes.  This is a warning, everyone!  No buying a car until you've seen Car Dogs!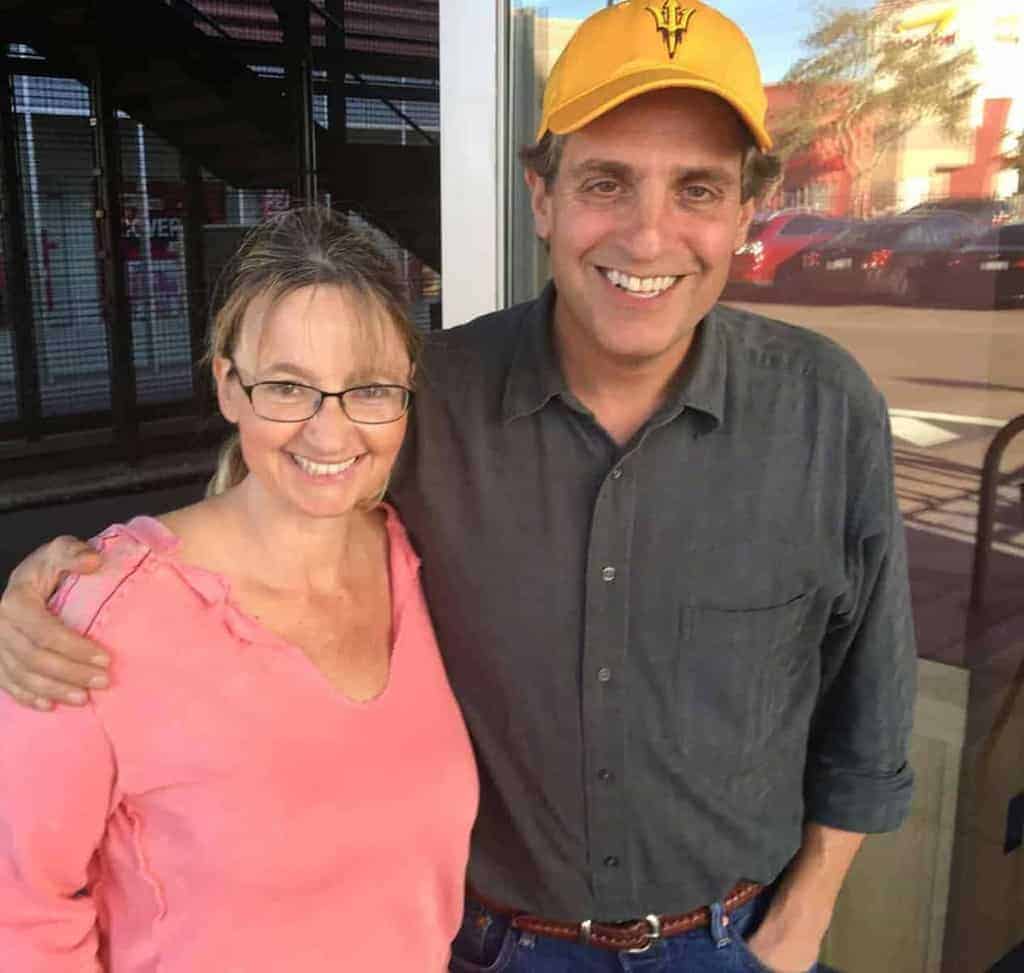 In the film, Malcolm, the dictatorial business owner of the car dealership which employees his son, Mark, takes advantage of his son and other employees by expecting them to do "Whatever It Takes" to meet a certain number of sales by end of day, all to make himself look good as he closes a deal behind the scenes.  He has promised Mark the next dealership and works him hard with little reward.  Can Mark meet the demands of his father to get the prize he so deeply covets?  Will his ambitions lead him to delude his team and the buyers who walk in, making him become more and more like his father?  Mark is played beautifully by Adams and Mulkey is a very frightening Malcolm.  Circling back to the whatever it takes sales issue, Collis did tell me that he was given the advice to have an amount written down before walking into a dealership and to, 'Not ever go over that amount.'  Got that?  Never go over that amount. 
As I mentioned, his Film Spark program does connect film students with professionals in the movie industry but also gives artists in the Phoenix area a chance to show their stuff.  He hired crew and cast and they reimbursed his kindness by taking an already great script and improving it with superb performances all around.  Smiling, he mentions, 'This is a good opportunity for filmmakers in Arizona.  There's so much creativity in this state and this is a new model for getting a film made.  Why go to L.A. to launch a film when you have Harkins Theatres?' 
Curious, I asked him if he could remember any of the local talent that he used.  He took out his phone and scanned the IMDB credits.  Some of the people he mentioned were Raymond Scott who, as a car salesman, stood out not only by wearing a brightly colored shirt but by appearing to be continually in sales mode.  He then mentioned actor, Drew Moore, who played a particularly tough customer.  Moore, who had played football in the NFL and the CFL before the acting bug took hold, is a big muscular man who made an impression on the director and likely will the audience when they see his character intimidate a salesman into giving him a better deal.  Collis laughed as he evoked the memory of Moore mainly because of the mistake he made by giving him the direction to hit something harder.  Moore is not a small guy but it was a very small object he hit.  As I'm sure you could guess… it didn't go well.  He had another performance he couldn't wait to talk about and that was the work done by Wendy Crawford.  He told me, 'She had a small part as the receptionist but she was so good; very professional.'  Not only did she give an exceptional performance but her husband Guy Crawford was extremely helpful with equipment that was needed.'  Guy Crawford works for BKW, Inc. in Tempe.  He and owner, Jim Weingard, provided services for the Car Dogs film for which Collis will be forever grateful.  One thing I learned right away from talking to him was that he realizes what a big effort it is to make a movie and that he is only one part of a massive undertaking.  Collis wants everyone to get their credit.  A few other people he wanted me to mention were production designer Scott Cobb, Hamilton Sterling his sound designer, Maggie Morgan the production's costume designer and all of the veteran Hollywood department heads who were willing to help turn Car Dogs into a reality.
I had to inquire about whether he'd be willing to make a film like this again; to take a chance on making a movie of this size outside of L.A.  I'm pleased to announce his answer was, 'Yes.'  He had nothing but positive things to say about Arizona and his experience with the feature film went smoothly.  I must ask one thing of all of you.  Car Dogs will be playing exclusively at Harkins Theaters around the valley starting March 24th.  Get out and see it.  Get everyone else there, too.  If it's a success, there's no way he wouldn't do this again.  This will be a success but will be an even bigger success if you're willing to get to the theatre the weekend of the 24th and give him and the Harkins Theater chain a reason to believe they made the right decision in choosing to premiere it here in Arizona.  Enjoy the film and spread the word!