Dog Days Movie Review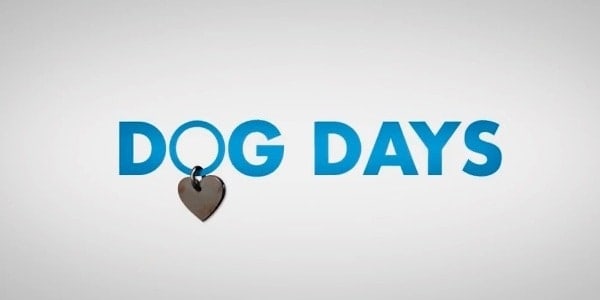 Score 70%
Score 70%

"Dog Days" is a movie named after the dead of summer, when many times things come to a crawl and life slows down. But this mixed breed of a movie has a theory that new friends can be found and romance can be kindled, with just a little canine help. Using a large ensemble cast and interweaving story lines, they are trying to go for the loosely connected Rom-Com style. Perhaps you could call it: "Love, Arf-ily".  The main connecting thread is a group of dogs; Mabel, Sam, Charlie and Gertrude.
These dogs are in the care of some humans. Mabel (a very overweight pug) is with a retired professor named Walter (Ron Cephas Jones), who lives alone after the passing of his wife. He meets a pizza delivery boy named Tyler (Finn Wolfhard), and when Mabel runs away, Walter and Tyler team up. A childless couple named Kurt (Rob Corddry) and Grace (Eva Longoria) adopt a little girl. But the child is unhappy, until she comes across a stray very overweight pub – yes it is Mabel. Walter is very sad with his dog gone, but Kurt and Grace are happy that their new child is now also happy.



Dax is a slacker musician who has to take care of his sister's dog Charlie. Dax slowly becomes attached to the shaggy mutt. But his apartment building does not allow dogs, so he needs to hide Charlie all the time. Also living at the same place is Tara (Vanessa Hudgens), who find s stray little Chihuahua dog with no name. She brings the pup to a no-kill shelter run by Garrett (Jon Bass) – who has secretly pined for Tara for ages. He names the dog Gertrude, for the author Gertrude Stein. But the shelter is having major problems, when the landlord decides to sell out and kick the tenants out.
But at the same time, Liz (Nina Dobrev) – a popular morning host on an L.A. TV program, has a sweet little mutt named Sam. Sam is sweeter than her boyfriend who is cheating on her. Liz gets new co-host on the program, and it is Jimmy (Tone Bell). He is an ex-football star with an older dog of own named Brandy. Brandy and Sam get along great, but it requires a little bit more time for Liz to warm up to Jimmy. Liz is so afraid to get her heart broken again; she feels that Jimmy might just be using her. But don't worry, all of these seemingly unconnected plots will be brought together at the end…

But as things always go in these types of movies, the various groups get pulled together slowly. The romances grow and the new friends are there to always help. A little family gets bigger and the dogs have a way of making everyone chill out. The story line is busy with several plots and sub-plots all running together. Some are much more interesting than the others, so that weighs the movie down slightly. The director tries to make the various plot threads come together near the end, and tries to keep all the stories moving forward. It has some hiccups along the way, but it mostly works.
"Dog Days" is not a pure-bred, and not in the same league as "Love, Actually". But for people who like romantic comedy movies — and they really like dogs — then "Dog Days'" is one that you might want to take for a walk around the block.


Dog Days Review
70%
Dog Days Summary
Directed by: Ken Marino
Screenplay by: Elissa Matsueda, Erica Oyama
Story by: Elissa Matsueda
Starring: Nina Dobrev, Vanessa Hudgens, Adam Pally, Eva Longoria, Rob Corddry, Tone Bell, Jon Bass, Finn Wolfhard, Ron Cephas Jones
Length: 113 minutes
MPAA Rating: PG - for rude and suggestive content, and for language
Genre: Drama, Comedy