Christopher Robin Movie Review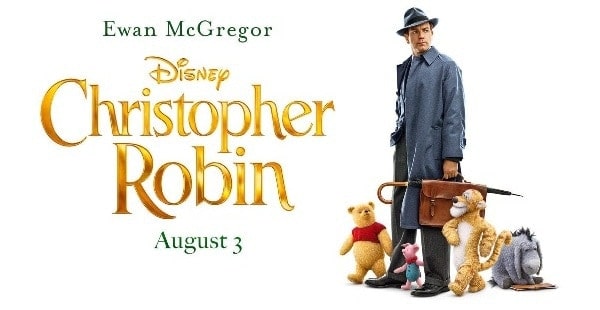 Score 78%
Score 78%
"Christopher Robin" (also known as "Disney Christopher Robin") is a movie about Winnie the Pooh's friend. But when Christopher has grown up and has lost the feeling of wonder in the Hundred Acre Woods, he gets very moody. Chris is now married and has a family, but his job is making demands on him that make him testy and short-tempered. The kind little boy from the children's books is nowhere to be found. Perhaps a visit to grown-up Christopher from his old childhood friend Pooh would be just the thing to cheer him up.
Christopher Robin (Ewan McGregor) is a manager at a London luggage factory. He is under the gun all of the time. His playful childhood memories are a thing of the past. He and his wife Evelyn (Haley Atwell) and their daughter Madeline (Bronte Carmichael) are many miles away from the Hundred Acre Woods. But Winnie the Pooh still plays there and waits for the return of his best friend. One day, all of Pooh's other friends go missing, including Tigger, Piglet, Owl, Kanga and Roo. Winnie the Pooh is very afraid and he thinks that only Christopher Robin could help to find them. So, Pooh goes to find Christopher.
Pooh does find Chris in London, and the two of them decide the only thing to do is get back to the Hundred Acre Woods. Chris is on a tight deadline to make drastic changes at work to cut costs. So, the last thing he needs is to go traipsing in the Woods to locate Pooh's other pals. But he decides that that is what Pooh needs him to do. Chris takes all of his important work papers with him, just he can keep them safe. You know, what could go wrong?
Christopher finds Pooh's friends, and then he realizes that they are still also his friends. A burden is lifted from his mind. He gets back to London to show his evil boss all the work that Chris accomplished over that weekend. But of course, the papers are with his friends back in the Woods, and Madeline meets up with the talking stuffed animals, and they decide to sneak back to London, and soon Evelyn must also follow them to London, and Chris is about to give an important presentation, but all the important papers are… well, let's just say that a mild level of chaos ensues.
This is a very nostalgic appeal to those who grew up with Winnie the Pooh and still want more of him. This movie gets you quite a lot of Pooh and his friends. But is also gives you a look at might have happened to Christopher Robin as he grew up and more removed from the Hundred Acre Woods. The movie takes a long amount of time to get moving, but it rewards with beautiful scenes of the Woods and of the English countryside. Ewan McGregor does a very pleasant job with being a guy stuck in a mid-life crisis – but who needs a stuffed bear to show him what is most important in his life. All the acting is very good, including the voice acting for Winnie the Pooh and for Tigger (both voiced by Jim Cummings).
Perhaps your life will not be changed by watching this movie. But it has a similar feel to the movie 'Paddington', also about a stuffed bear that walks and talks around London. And if you really stretch it, there is a resemblance to 'Hook', with the older Peter Pan reconnecting with the joys of his youth. And if you enjoy a movie like those other two, then "Christopher Robin" will be a new friend that will take you back to your childhood…
"People say nothing is impossible, but I do nothing every day" – W. Pooh

Facebook: https://www.facebook.com/DisneyChristopherRobin/
Twitter: https://twitter.com/DisneyStudios
Instagram: https://www.instagram.com/disneystudios
Youtube: https://www.youtube.com/disneymovietrailers
Hashtag: #ChristopherRobin
Christopher Robin Review
78%
Christopher Robin Summary
Directed by: Marc Forster
Screenplay by: Alex Ross Perry, Allison Schroeder
Story by: Alex Ross Perry
Based on Characters from: Disney's Winnie the Pooh and Winnie-the-Pooh (by A. A. Milne & E. H. Shepard)
Starring: Ewan McGregor, Hayley Atwell, Jim Cummings, Brad Garrett, Bronte Carmichael
Length: 104 minutes
MPAA Rating: PG for some action
Genre: Nostalgic Drama


Acting (and Voice Acting)