Triple Frontier Movie Review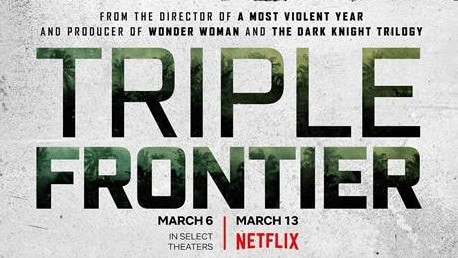 Score 80%
Score 80%
'Triple Frontier' opens in select theaters and will be available on Netflix March 13. Other projects coming to Netfix is 'The Highwaymen' with Kevin Costner and Woody Harrelson. It's directed by John Lee Hancock who directed 'The Blindside,' 'The Founder' and 'Saving Mr. Banks.' Also coming is 'The Irishman' from Martin Scorsese, a gangster drama that has him once again working with Robert De Niro. Netflix is doing everything right and doing it well. Their latest original films are proof that they're aware of when they have a good thing on their hands. 'Triple Frontier' is no different. It's about five former special forces operatives who, after several years removed from serving, reconvene for a reconnaissance mission that could lead to a fortune. If all goes well, they intend on stealing Lorea's, a vicious drug lord, entire fortune out from under his nose.
We see that the friends are likable men with character flaws that we all have, plus a strong love of family and a military background so right away you feel for them. They've given so much to country yet feel they've been left behind. They miss the days of service and, most likely, the respect they received while in uniform. With the help of Santiago 'Pope' Garcia's (Isaac) girlfriend Yovanna (Arjona) they learn where he lives and where he stashes his riches. Several issues arise in the planning, especially when they learn that he lives in the South American jungle, but nothing they can't handle.
They're skilled in the task that awaits them but are they up for it mentally? They're different men than they used to be and have with family to consider. The team who used to go into battle for a purpose are now ruminating over whether going into a life of crime to help themselves is worth it. Can they break the oath they once took? Some struggle with that but all doubt washes away when they see that what was a possible twenty-five-million-dollar score turns into 100's of millions!
When they get a look at the loot they weren't expecting to find, they're like kids in a candy store. They behave as such, as well. Lorea has stacks and stacks of cash. Where they find it, I'll let you learn by watching. Without spending a moment's attention as to the amount of the haul, they need to seize as much of it as they can and run if they want their mission to succeed. As I said, they NEED to get it and get moving but that's not necessarily what they end up doing. This scene is intense. In fact, you'll see the movie is extremely exciting in a bloody opening scene, but you haven't seen anything yet!
Once they hit the house tension builds and doesn't slow down. As they fill their getaway vehicle, they realize that getting the cash from Lorea's house to their own is going to be brutal. Is it ever! You'll start to worry when their greed gets the better of them and they miss their 'hard out.' They've arranged a time frame to get in and get out and know exactly what they're capable of within that window. They're also aware of what can go wrong if they stray from the plan. Nothing can go wrong with Tom 'Redfly' Davis (Affleck) in charge. He has a clear head and will keep them on schedule. But then again… he has had some money issues. Once he sees the stash, he doesn't want to leave one cent behind for Lorea and, being human, the plan fades from his mind. It's a sign they're in serious trouble by the simple fact that he's been the logical one all along. Now, because of their selfishness, everything threatens to quickly get out of hand.
I enjoyed watching this story develop. The camera work and locations that were chosen made it easy. I threw support behind the characters and was mentally involved with them straight off the bat. I wanted them to succeed in their efforts to rob a gangster of everything he has. The strong performances and wonderful introductions of each character have something to do with the bond they have with the audience. They, especially Santiago, feel they're deserving of a better life than what they live. He talks these men into doing something they weren't interested in doing and, as one might do when they see a boatload of tax-free money, they take it. It then becomes a, 'can they keep what they risked everything for?' story. Near the end, you're as invested as they are and are just as broken by whether or not they'll return with anything.
How that plays out is what's so entertaining about 'Triple Frontier.' Director J.C. Chandor (A Most Violent Year, All is Lost) has put together an incredible film that will have you on the edge of your seat. It would have been a better story if writer Mark Boal, the Oscar-winning screenwriter of Kathryn Bigelow's 'Detroit,' 'Zero Dark Thirty' and the 'The Hurt Locker,' had given us a definitive statement at the end. He wants his men to be seen as heroes… you just want them to win. You'll champion them on as they struggle to cross the Andes and safely arrive home with their prize, but he leaves us hanging with a gesture of goodwill. Luckily there's one little moment that questions what the ending could be. Is it up for you to decide or there's a part two on the way? I'm up for that if it goes that direction. You will be, too.

If you like a rollercoaster ride of desperation, despair and intrigue in your films… this is one to see.  
Triple Frontier Movie Review
80%
Summary Directed by: J.C. Chandor Starring: Ben Affleck, Charlie Hunnam, Oscar Isaac, Pedro Pascal, Garrett Hedlund and Adria Arjona Rated: R Genre: Action, Adventure, Crime Five former Special Forces operatives reunite to plan a heist in a sparsely populated multi-border zone of South America. For the first time in their prestigious careers these unsung heroes undertake this dangerous mission for self instead of country. But when events take an unexpected turn and threaten to spiral out of control, their skills, their loyalties and their morals are pushed to a breaking point in an epic battle for survival.