Movie Screening Summary
Consummate con man Roy Courtnay (Ian McKellen) has set his sights on his latest mark: the recently widowed Betty McLeish (Helen Mirren), worth millions. And Roy means to take it all.
From their very first meeting, Roy begins plying Betty with his tried and true manipulations, and Betty, who seems quite taken with him, is soon going along for the ride. But this time, what should have been a simple swindle escalates into a cat-and-mouse game with the ultimate stakes—revealing more insidious deceptions that will take them both through a minefield of danger, intrigue and betrayal.
Legendary actors Helen Mirren (Oscar winner, "The Queen") and Ian McKellen (two-time Oscar nominee, "Lord of the Rings: The Fellowship of the Ring" and "Gods and Monsters") star together on screen for the first time, in this smart and suspenseful thriller from New Line Cinema about the secrets people keep and the lies they live.
"The Good Liar" was directed by Bill Condon, the Oscar-winning screenwriter of "Gods and Monsters," from a screenplay by Jeffrey Hatcher ("Mr. Holmes"), based on the widely acclaimed novel by Nicholas Searle. The main cast also includes Russell Tovey ("The History Boys," "Quantico") and Jim Carter ("Downton Abbey").
The film was produced by Greg Yolen and Bill Condon. Richard Brener, Andrea Johnston, Aaron L. Gilbert, Jason Cloth, Anjay Nagpal, Jack Morrissey and Nick O'Hagan served as executive producers.
https://pages.warnerbros.com/TheGoodLiar
https://Facebook.com/GoodLiarMovie
https://Twitter.com/GoodLiarMovie
https://Instagram.com/GoodLiarMovie
https://GoodLiarMovie.com
Find more advance movie screenings from tmc
Advance Movie Screening For THE GOOD LIAR
Find your chance to receive special advance movie screening passes below.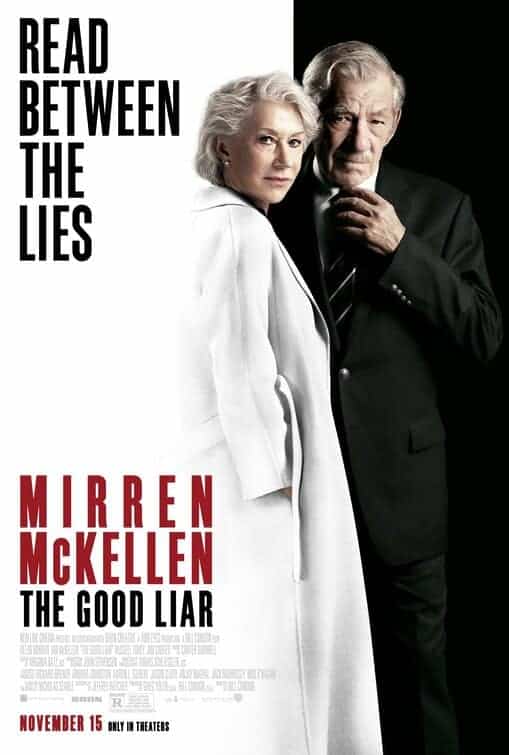 Phoenix, Arizona
Advance Movie Screening Details
Movie Screening Date: Tuesday, November 12th
Location: Harkins Shea
Movie Screening Time: 7:00pm
Las Vegas, Nevada
Advance Movie Screening Details
Movie Screening Date: Tuesday, November 12th
Location: Regal Village Square
Movie Screening Time: 7:00pm
Advance Movie Screening Information
To redeem a pass, simply click the Get Passes button. You will taken to our movie screening partner site (where you can sign up for a free account). Once you've done so, you'll be able to print out your pass and bring it with you to your screening or event. Admittance into a screening or event is not guaranteed with your pass. Events and advance screenings are filled on a " first come, first served " basis. To ensure that you stand a good chance of being admitted, we recommend that you show up 30 minutes to one hour early. The number of admissions that are permissible for each pass are printed clearly on the ticket that you print out. You are allowed to bring as many guests as is indicated on your pass. For example, if your pass is for " Admit Two, " you can bring yourself and one guest. If you have an " Admit One " pass, you can bring only yourself.
If you have any other questions or comments, please contact us.