With the popularity of musical films lately, 2016 gave us 'La La Land.' 2017 was the year of 'The Greatest Showman' and 'A Star is Born' was remade, once again, in 2018, naturally, 2019 needed to release something, too. Let's keep the momentum going! Luckily, Phoenix, Arizona native Michael Berry, who has had a successful career as a director and actor on the stage and on screen, heard the call and did just that. He gave us 'Stuck,' starring 'Breaking Bad' actor Giancarlo Esposito. 'Stuck' is about six people who find themselves forced together when their New York City subway stops moving. Rather than sit there in silence, they get to know one another through, of course, song.
At the outset, it was a musical play written by Riley Thomas. When Berry heard about it, he was in right away to direct the film version. He was hooked by the fact that people everywhere are angry, especially these days, and he could definitely take that premise and make it work. Not only are people angry but through electronics, human beings are getting more and more distant. So, when these six individuals are, begrudging, made to spend time with one another, even connect, things happen that help each of them… heal, honestly. It'll remind you some of 'Rent' in a way but it's different. Maybe that doesn't make any sense, but the songs feel the same… sound the same. Don't let the fact that it isn't its equal deter you from enjoying it. Nothing can be 'Rent' but 'Rent.' It came along and blew everyone away and got everyone excited about musicals, even if they had never seen one, and 'Stuck' will simply continue to draw interest to the genre. A few things happen at the end of the film that suggests a sequel could result from this effort should they ever get the urge.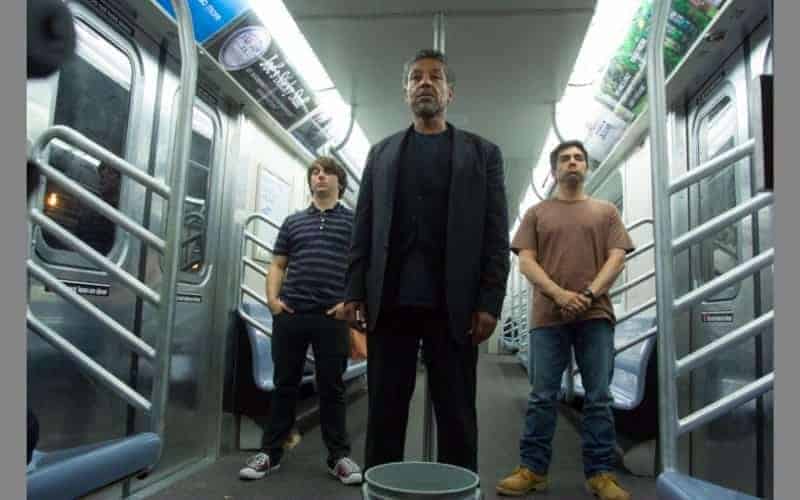 The lyrics to the songs are meaningful and reach across lines of culture and race. In fact, the entire film purposefully deals with racism, sexism, class, and grief in several different ways that reflect the current climate rather than attempt to escape it. Some passengers try and help others, but a few arguments happen and are dealt with through gorgeous melodies and verses replacing unnecessary dialogue in songs like 'Gone,' 'Make It Better' and 'Draw You.' I assure you that the ballads will simply delight your ears. The performances, the songs and the incredibly uncommon way to bring us a story such as this, one of harmony and anguish, is worth seeing on the big screen if you can. As I do with most musicals that get released, I'll be buying this soundtrack the moment I can. You might want to do the same.
*MJW Films and Eammon Films will theatrically release the film on April 19th in Phoenix at multiple  Harkins Theatre locations.