Everything, Everything Movie Review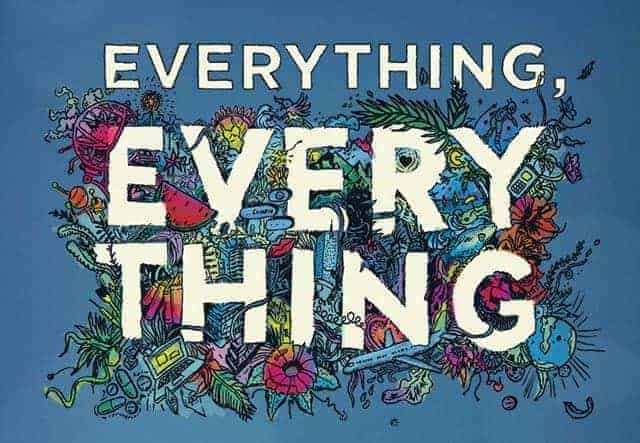 Score 53%
Score 53%
Who's ready for a teenage girl version of "The Boy in the Plastic Bubble"? What, no show of hands? Well, get ready anyway – because "Everything, Everything" will have you wishing you were inside your own bubble. The disease that forces you keep away from everything, everything is severe combined immunodeficiency (SCID). This is reason for the main character never leaving the house.
Maddy (Amandla Stenberg) is 18 and she has been kept in a sterile cocoon that is her house, where she lives with her mother, Dr. Whittier (Anika Noni Rose). Dr. Mom has lost her husband and son in a terrible car crash 16 years ago, so she is determined never to lose Maddy. So Maddy has been determined to have SCID, and as a result, her Dr. Mom has made the house into a germ fortress. There is an airlock at the front door. There are antibiotic soaps everywhere, and the place is kept spic and span. Maddy has a nurse, Carla (Ana de la Reguera) who tends to her when Dr. Mom is on duty elsewhere.
One day some new neighbors move in next door. They have a son about the same age as Maddy. His name is Olly (Nick Robinson), and he is very different that Maddy. Olly wears black, and he has an attitude. Maddy wears white and she always thinks of pleasant and interesting things. They have rooms that face each other on the second floor, so soon they are texting away. But since Maddy is not allowed out, and Olly is not allowed in, the movie makes many of these texting conversations as if they are done in real life. Maddy has a great imagination, so she imagines the actual Maddy and actual Olly – being together in a small model of a diner, or model of a library.
Maddy convinces Nurse Carla to let Olly come in to visit. Awkwardness ensues, and it gets worse when Dr. Mom finds out. Carla is fired and Maddy gets her phone and internet taken away. Oh, heavens – child abuse! But she is still infatuated with Olly, and she finds it incredibly easy to get her own credit card. She buys her own stuff, including a trip to Hawaii for herself and for Olly. Even when she does not have any type of identification and would not be able to board the plane? Of coure she bought two tickets and expects Olly to go with but has not checked with him one bit if he even could…
But, what the hey, let's go to Hawaii. Someone might pay for it, sometime… The two lovebirds stay at a plush resort, drive a rental Jeep around the island, find deserted beaches and go swimming. Olly teaches Maddy to sort-of swim, float mostly. Until she decides they should go cliff-diving, into deep water when she cannot swim. They go on the merry way and make love, and Maddy gets deathly sick. She wakes up back in her room. So what all just happened? She lost it in Hawaii, and then she got back home again. But how…
Dr. Mom is terribly disappointed in Maddy and her behavior. She will be locked down ever more from now on. Maddy has become pretty much a prisoner in her own home, thanks to SCID. Good thing Dr. Mom has all the paperwork and results from the testing years ago that showed Maddy had a very severe case… Maddy goes to find the paperwork, and guess what?
Good grief, this movie is silly and pandering. There is no character arc for anyone. Nobody can truly be considered an antagonist, and there is no conflict and no resolution. The story just floats along on one ridiculous premise after another. This is a version of reality that even a young middle-school girl could not believe. At least the lead actors are good to look at.
 Amandla Stenberg has come a long way from playing young Rue in "The Hunger Games". She is quite attractive and has a pleasant screen presence. Even with a flawed character, her performance is really good. Nick Robinson plays opposite her, and his role is to be her opposite. She wears white, and he wears black. She reads books, and he rides his skateboard. However, they do play the young lovers in a nicely awkward manner.
Would this movie been better if done as a "Hallmark Movie – Very Special Episode"?  Yes, because there is very little that requires a full studio production, except for the sequences shot in Hawaii. Is there anything silly and trivial about this movie? "Everything, Everything"…
Everything, Everything Review
53%
Everything, Everything Summary
Directed by: Stella Meghie
Written by: J. Mills Goodloe
Based on the book "Everything, Everything" by Nicola Yoon
Starring: Amandla Stenberg, Nick Robinson, Anika Noni Rose, Ana de la Reguera
Length: 96 minutes
MPAA Rating: PG-13, for thematic elements and brief sensuality
Genre: Drama