Deadpool 2 Movie Review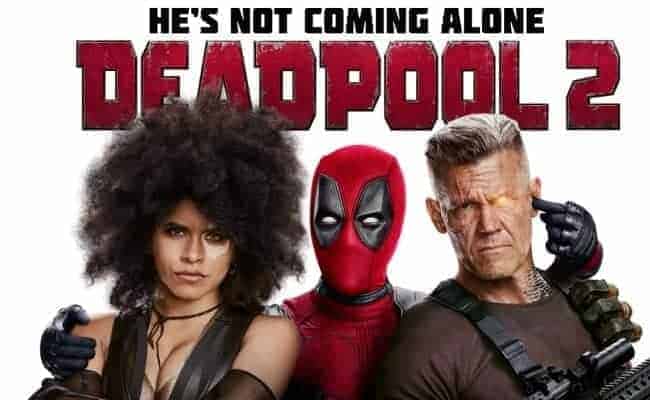 Score 85%
Score 85%
Deadpool 2. Nobody can now say this guy ain't got a pair!
Of movies, of course. I meant movies. What, did you think I was referring to something else?
"Deadpool 2" is the unholy spawn of the first movie "Deadpool". That is where Wade Wilson (Ryan Reynolds) was introduced to the world as a Special Operations soldier turned mercenary who became Deadpool. It was quick-witted, raunchy, rude, satiric, graphically violent — and bust-your-gut funny.  If you get past the heavy R-rated everything in that movie, you were in for a treat. Nothing was sacred, everyone got skewered, and every fourth wall was broken down. They took a 'Special Powers Super-Anti-Hero' and made him into a household name.
Deadpool is back for a Number 2, wait… that did not sound right. Deadpool is coming again… huh – oh yeah, scratch that last one. Anyway, there is a "Deadpool 2" movie and if you think it can live up to the first one (or maybe live down to the first one) then you are right. Deadpool (Ryan Reynolds) lives with a roommate Blind Al (Leslie Uggams) and he has a special girlfriend Vanessa (Morena Baccarin). But things are a-changin' and Deadpool is soon on a mission to change his heart. He goes back to the X-Men mansion to find Colossus (Stefan Kapicic) and Negasonic Teenage Warhead (Brianna Hildebrand). He becomes an X-Men trainee. They all get a ride from taxi driver Dopinder (Karan Soni) who also wants to be a superhero, with no special powers.
They meet with Russell (Julian Dennison) who's a young mutant at a different school. He is angry and ready to use his flame-throwing fists to burn down the school. Russell and Deadpool are taken into custody and put into a special prison for mutants. But while there, a time-travelling cyborg soldier from the future named Cable (Josh Brolin) finds Russell. He is on mission to kill Russell for his own personal reasons. Deadpool tries to help Russell because he is just a kid, but Russell gets away from Cable and from Deadpool. Russell is on his way to becoming a very powerful future mutant crime boss.
Deadpool teams up with his buddy Weasel (T.J. Miller) who owns a dive bar for mercenaries. Deadpool creates a new team of super-powered mutants called 'X-Force'. One of the 'Force' members is Domino (Zazie Beetz) who has the special power of 'luck'. After a big fight against Cable, Cable decides to join forces with Deadpool, because it will be the only way to find Russell.  Cable is still set to kill him, but he will give Deadpool one chance to save Russell. There is so much anger in Russell that it is near impossible to stop him from becoming evil. But Deadpool needs to change his heart. Vanessa would be so proud…
Laying out the plot details of 'Deadpool 2' is like putting a big spread of cheeses out for a meeting of the Lactose Intolerance Society. It is all there, but in the end it does not matter. The action scenes, the violent special effects, and crazy banter between Deadpool and Cable; these and many other aspects overshadow what happens in the plot.  The driving force is Deadpool's desire to become a better person for Vanessa. But he still has his low-brow, crude humor and snarky attitude, and that will never change.
Ryan Reynolds and Josh Brolin are both super amazing in the roles of Deadpool and Cable. They are polar opposite in attitude, but bounce quips (and firsts) off of each other. Julian Dennison as Russell and Zazie Beetz as Domino are both very fun to watch. By the way, don't take anything from Russell after he's taken it out of his 'Prison Wallet'.
The action scenes are heart-pumping, and the dialog and the smart-alec remarks come a mile a minute. Watch out for the quick 'Thanos' reference and the 'You're so dark, do you come from the D.C. Universe?" line.
Oh, and even if your bladder is calling you away at the end of the movie, stay for the end-credit scene. It is hilarious and it cuts right to the point.
Deadpool 2 Review
85%
Deadpool 2 Summary
Directed by: David Leitch
Written by: Rhett Reese, Paul Wernick, Ryan Reynolds
Based on Deadpool - comic book character (by Fabian Nicieza & Rob Liefeld)
Starring: Ryan Reynolds, Josh Brolin, Morena Baccarin, Julian Dennison, Zazie Beetz, T.J. Miller, Brianna Hildebrand, Leslie Uggams, Karan Soni
Length: 119 minutes
MPAA Rating R for EVERYTHING!
Genre: Comic book based character, Adventure