Battle Of The Sexes Advance Movie Screening
Movie Screening Summary:
In the wake of the sexual revolution and the rise of the women's movement, the 1973 tennis match between women's world champion Billie Jean King (Emma Stone) and ex-men's-champ and serial hustler Bobby Riggs (Steve Carell) was billed as the BATTLE OF THE SEXES and became one of the most watched televised sports events of all time, reaching 90 million viewers around the world.  As the rivalry between King and Riggs kicked into high gear, off-court each was fighting more personal and complex battles.  The fiercely private King was not only championing for equality, but also struggling to come to terms with her own sexuality, as her friendship with Marilyn Barnett (Andrea Riseborough) developed.  And Riggs, one of the first self-made media-age celebrities, wrestled with his gambling demons, at the expense of his family and wife Priscilla (Elisabeth Shue).  Together, Billie and Bobby served up a cultural spectacle that resonated far beyond the tennis court, sparking discussions in bedrooms and boardrooms that continue to reverberate today.  
http://www.foxsearchlight.com/battleofthesexes/ 

See more advance movie screenings from tmc
Advance Movie Screening For BATTLE OF THE SEXES
Find your chance to receive special advance movie screening passes below.
Phoenix, Arizona
Advance Movie Screening Details
Movie Screening Date: Tuesday, September 19
Location: Harkins Shea
Movie Screening Time: 7:00pm
Enter To Win
Las Vegas, Nevada
Advance Movie Screening Details
Movie Screening Date: Monday, September 25
Location: Regal Village Square
Movie Screening Time: 7:00pm
Enter To Win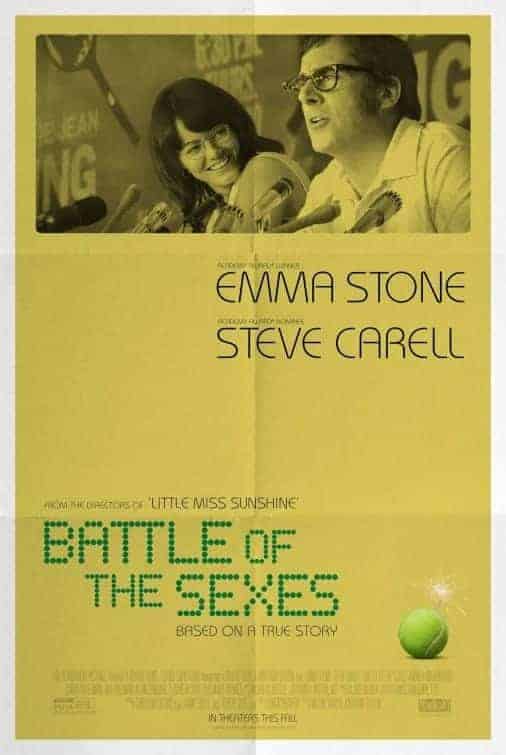 Advance Movie Screening Information
To redeem a pass, simply click the Get Passes button. You will taken to our movie screening partner site (where you can sign up for a free account). Once you've done so, you'll be able to print out your pass and bring it with you to your screening or event.
Admittance into a screening or event is not guaranteed with your pass. Events and advance screenings are filled on a " first come, first served " basis. To ensure that you stand a good chance of being admitted, we recommend that you show up 30 minutes to one hour early.
The number of admissions that are permissible for each pass are printed clearly on the ticket that you print out. You are allowed to bring as many guests as is indicated on your pass. For example, if your pass is for " Admit Two, " you can bring yourself and one guest. If you have an " Admit One " pass, you can bring only yourself.
If you have any other questions or comments, please contact us.